First Wind purchases large wind farm development project from Westerly Wind and its development partner, Big Sky Wind Energy
BRAINTREE, Mass.--Westerly Wind LLC (Westerly), a provider of development capital and expertise to the wind industry, through its subsidiary Westerly Route 66, LLC and its development partner, Big Sky Wind Energy, LLC has sold 100% of the membership interests in Route 66 Wind Power, LLC to First Wind Texas Holdings, LLC, a subsidiary of First Wind Holdings, LLC.

Route 66 Wind Power is a late stage wind farm development project located on approximately 20,000 acres in Armstrong and Carson counties, east of Amarillo, TX. Route 66 Wind Power has potential capacity of up to 200 megawatts and expects to deliver clean renewable power to the ERCOT power markets through the new CREZ transmission system.
"The Route 66 Wind Power project is well positioned to capture the excellent wind resource in the Texas Panhandle and we are pleased to have sold this project to an experienced wind farm owner-operator such as First Wind." said Westerly CEO, Steve Schauer. "Westerly Wind remains focused on continuing to build value in our future and existing development projects."
About Westerly Wind – Westerly Wind is a portfolio company of US Renewables Group. Westerly provides development capital and expertise to wind projects at all stages in the development cycle and currently has approximately 1,000 MWs under development. – Founded in 2003, US Renewables Group is one of the largest private equity firms focused exclusively on investing in renewable power, biofuels and clean technology infrastructure. More information about the Westerly is available at: www.westerlywind.com.
Featured Product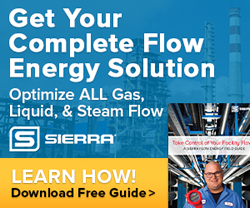 Download Flow Energy Guide - Written by Engineers For Engineers. Learn how to save on energy costs by optimizing your facility flows that impact costs like compressed air, natural gas, steam, and hot or chilled water.