Unirac Roof Mount (RM), is in production and ready for shipment on September 16, 2013
ALBUQUERQUE, NM – September 11, 2013 – Unirac, Inc., a Hilti Group Company and the leading provider of high quality, competitive PV mounting solutions in North America, is proud to announce the Unirac Roof Mount (RM), is in production and ready for shipment on September 16, 2013. This new ballasted flat roof system, introduced at Intersolar North America 2013, will replace RapidRac.

"RM is the outcome of close collaboration with our customers and our product vision for the flat roof market. Its intuitive and simple design combined with fast installation will help our customers drive down the cost of commercial flat roof solar," said Peter Lorenz, Unirac CEO.
Each ballast bay is compact and easy to handle, weighing less than 3.5 pounds. The modular design allows installers to seamlessly navigate modules around HVAC units or other roof obstacles, maximizing power density. The RM supports most framed crystalline modules, making the 10 degree tilt innovation readily available through Unirac Distributors.
"RM is positioned to become the new industry standard," said Darren Womacks, Unirac Vice President Residential & Commercial Sales. "Features such as integrated bonding and only two major components mean ease of installation and logistics. When combined with the benefits of a universal product that is ready to ship from our distribution partners, Unirac will continue its commitment to our customer's success in the marketplace".
U-Builder is ready to accommodate the RM, a simple online tool that allows customers to design and quote a system in seconds. This visual online application offers users a simple way to design, share, and recall PV projects, backed by Unirac engineering.
Tuesday, September 17th launches our dedicated product hotline at 1-855-387-8450, 8am – 5pm (MDT). Our team will be prepared to answer all your technical questions about the new Unirac Roof Mount (RM).
About Unirac Inc. ®Unirac, a Hilti Group Company is North America's leading provider of infrastructure for solar power systems. Recognized as an industry innovator on both the product and process side, Unirac is one of the fastest growing companies in the solar industry. Unirac has achieved certifications for both ISO 9001:2008 for QMS and ISO 14001:2004 for EMS and OHSAS 18001:2007 for safety. Unirac's industrial-grade solar mount solutions meet 'Made in America', 'Buy American', ARRA and Ontario Power Authority FIT and microFIT criteria. For more information about Unirac, please visit www.unirac.com
Featured Product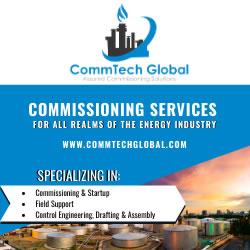 CommTech Global Solutions, LLC, provides professional and reliable commissioning services to customers in all realms of the energy industry. We blend our skills in engineering and technology with innovative business models, offering a complete range of services to assist you for a successful and in compliance operational startup. Consolidation of all our service domains gives our clients a comprehensive set of expertise and far-reaching experience on each project.