The Battery Show and Electric & Hybrid Technology Expo open today for three days, September 17-19.
Novi, Michigan, September 17, 2013 – A hundred years after the first experiments on lithium

batteries, the world's advanced battery and EV engineers and suppliers have not lost their
genius for innovative problem-solving, product refinement and invention. Today, industry
leaders from the plug-in electric vehicle and advanced battery sectors are converging in Novi
for North America's largest international exhibition and conference dedicated to battery
technology, as well as its sister show dedicated to electric and hybrid vehicles.
Early and ongoing battery development may have had its challenges, but it is an evolving
technology constantly responding to changing customer requirements, safety considerations
and environmental legislation.
Only rarely comes the opportunity to experience the dynamic future of energy and
transportation, spread out across one floor at one time with the additional benefit of the
shared expertise and vision of leading business leaders, engineers and legislators in a single
crucible of innovation and talent. The Battery Show is now on its 4th successful outing in
Michigan, and is this year joined by Electric & Hybrid Vehicle Technology Expo for an even
more comprehensive event. More than 300 exhibitors are currently showcasing their latest
technology and launching products as thousands of visitors arrive to network, do business,
and take part in a three-track Conference in the appropriate setting of the Suburban
Collection Showplace in Novi, MI.
2,000 years ago the Baghdad battery was the state of the art, and a century ago this year,
physical chemist Gilbert Newton Lewis began experiments using non-rechargeable lithium
batteries. Batteries and electric and hybrid vehicles have a history going back into the 19th
Century facing many challenges along the way, but today the industry comes of age. The
2013 show welcomes more visitors to view more exhibits and listen to more conference
speakers than ever before.
The Battery Show and Electric & Hybrid Technology Expo open today for three days,
September 17-19.
Register for your press pass by visiting www.thebatteryshow.com/press-registration/
For further information go to: www.thebatteryshow.com or www.evtechexpo.com
Featured Product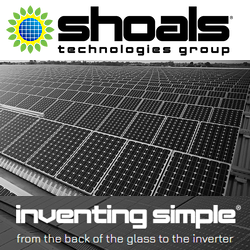 Inventing Simple® isn't just a slogan to us, it's a way of life. Using simple plug-and-play ideology, we revolutionized solar installations in 2003 with our Interconnect System™. Our harnessing system is now the gold standard EPC's use around the world. By using simple ideas, we are making solar energy a more affordable and clean power source for future generations.