Morocco has no gas or oil gas resources on its territory. Therefore, the kingdom has to import about 90% of its electricity, totaling about one quarter of its overall importation. Buying energy from oversea is a huge investment for the country and Morocco is now turning to renewable energy to become
In some isolated villages, where on-grid electricity is not accessible or too expensive, households have been entrusted with small solar generators able to produce enough energy to light up houses, generate energy for TV or cellphone charger, etc. The project is quite efficient and foresees a bright success for Morocco's project to use renewable energy to gain its energy independence.

Lately, Morocco started to speed up the development of solar facilities across the country with many project in the pipeline. Experts forecast that opportunities of growth and investments will be flourishing in the renewable energy industry for the years to come. One of the biggest signals was the announcement made by the MASEN (Morocco Agency for Solar Energy) last month that a call for bids will be launched by the end of the year for the construction of two solar thermal power stations. Those two solar plants will add 300 MW of solar capacity to the country.
Morocco already started the implementation of a 150 MW solar power station in Ouarzazate, Noor 1. With the goal to reach a 2000 MW capacity by 2020, the kingdom plans to build five more solar power stations across the country. The two calls for bids will allow the country to produce 450 MW of solar energy. One of the stations, Noor 2, will be able to generate 200 MW thanks to a parabolic mirror solar technology. The second one, Noor 3, will have a minimum capacity of 100 MW generated by a solar power tower. Both power stations will be able to stock electricity for up to 3 hours.
According to the MASEN, three consortiums are eligible to participate to the call for bids of Noor 2 and Noor 3 which will be launched at the last quarter of the year: Abengoa, International Power and ACWA Power International. A French consortium was also declared eligible to participate but only for Noor 3's bid. Just as Noor 1 project, Noor 2 and Noor 3 projects will be focused on the conception, the financing, the construction and the operation of the power stations. Noor 1 building started on May 2013 and is expected to be achieving in 2015. The $1 billion contract for Noor 1 was won by ACWA Power International for a 25 year long term.
Even though costs are quite high to develop its national electricity industry, Morocco needs energy independence. With those investments in renewable energy, Morocco will be able to progressively increase the national capacity to produce energy in a sustainable way. Moreover, Morocco aims to become an energy supplier for European countries as it enjoys a great amount and intensity of sunshine all year long. The country solar project, when completed, should allow Morocco to save about 1 million tons of gas and 3.7 million tons of CO2 per year. The overall cost of the solar program should reach $9 billion.
- By Greenshine, quality and cutomizable solar powered street lighting and parking lot lighting solution
Featured Product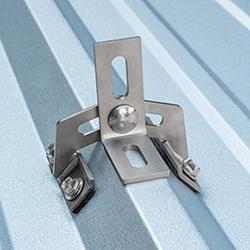 Error-Proof Compression: The QB2 doesn't leave any room for user error when it comes to Microflashing® compression. Once the Dual Drive Shoulder Screw is secured, the Microflashing® is compressed. Only 3 Components: The QB2 is comprised of Microflashing®, an L-foot and a Dual Drive Shoulder Screw. No more Nuts needed to tighten and secure the L-foot! Not only does this simplify the installation process, it also cuts down the installation time.