The meeco Group installs 143 kWp rooftop system for investor World in Balance
Zug/Blaubeuren. After successfully supporting and advising World in Balance in the acquisition of a 17.7 MWp solar photovoltaic park in Italy last year, The meeco Group has once again provided its services to the investor and solar project owner. On August 31st, the Swiss-based meeco Group officially communicated the start of operation of the 143 kWp turnkey rooftop project to the authorities thus securing the August 2013 Feed-In Tariff. Situated in the city of Blaubeuren, Baden-Württemberg region, in a property with a significant historical background in the textile business now owned by World in Balance, the solar installation 'sun2roof' contributes to greening up a set of buildings already equipped with a 22 kWp water turbine.

For this particular installation, The meeco Group has used top tier materials such as BYD polycrystalline modules, Kaco Powador Inverter, and supporting structures from K2 Solar Systems. Benefiting from a Feed-In Tariff of 12.52 Eurocents per kWh, the installation is expected to produce 135,850 kWh per year, which in terms of carbon footprint, will result in yearly savings of 88 tons of CO2.
The set of buildings, which previously hosted a textile manufacturing facility, is part of Blaubeuren's historical heritage; therefore the 'sun2roof' solar rooftop solution was designed to be architecturally integrated in the surrounding landscape. "We have conducted a thorough examination of the facilities and have subsequently restored and upgraded the roofs selected for the project," explains Claudia Hamm, Project Manager at meeco Services Deutschand GmbH, a subsidiary of The meeco Group. "We have thoroughly selected the materials and their suppliers as it was very important for us to respect the location's characteristics" adds Hamm.
About The meeco Group: The meeco Group was consolidated in 2000 and oriented its main focus towards the energy sector. With world headquarters located in Zug, Switzerland, the group currently has over 50 employees working across 4 continents. Thanks to a structured but flexible approach based on its core competencies, meeco has delivered over 320 MW of clean, renewable energy solutions across four continents. The meeco Group accomplishes its mission by providing project developers, investors, governments, and private businesses with the services necessary for timely financing, installation, and operation of clean energy assets.
Featured Product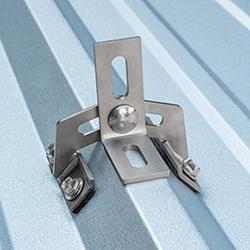 They have been changing the game for 10 years with their original Top Mount line for Asphalt Shingle roofs, and by now supplying one of the widest ranges of solar mounts in North America. From their patented products, to the custom production services they offer, QuickBOLT has been working with solar installers for nearly a decade to make solar installations easier than ever before.