Easy configuration and imperial temperature and volume units especially for the North American market
Our popular WMZ energy metering module is now available in a new

version with a commissioning menu for easy configuration and imperial
temperature and volume units especially for the North American market.
The commissioning menu helps the user configure the module by leading
through the most important adjustments step by step. When the
commissioning menu has been completed, the module is ready for normal
operation.
Several values can now optionally be indicated in imperial values.
Temperatures can be indicated in degrees Fahrenheit as well as Celsius,
the energy metering can be displayed in MBTU or kWh and the flow rate
indication is now available in gallons per minute and in liters per hour.
Of course, the new WMZ energy metering module is available in different
versions for voltages from 12 VDC to 230 VAC.
Further information about the large RESOL product portfolio can be
found at www.resol.com
Featured Product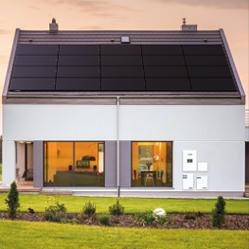 The Q.Home+ ESS HYB-G1 energy storage solution offers scalable storage capacity from 4.5 kWh up to 18.9 kWh and comes in a modular design for easy and fast installation. The system is offered in both DC-coupled and AC-coupled configurations and can connect up to 3 batteries in series using only one inverter and battery management system (BMS). The system includes an integrated backup power function for 100% of the rated inverter output to support critical loads in the event of power failure and offers remote monitoring using the QHOME+ web portal or QHOME+ ESS mobile app.