Easy to Install, Flexible Transformers Enable Current Measurement on Conductors in Tight Spaces, Large Bus Bars, and Irregular-Sized Conductor Bundles
BOULDER, Colo. — Sept. 23, 2013 — Continental Control Systems announced today a new CTRC Rogowski coil current transformer (CT) with conditioning circuit for its WattNode® line of power and energy meters. Offering a flexible mechanical design, the CTRC greatly simplifies installations to meet the increasing demand for current measurement on conductors where traditional CTs are difficult to use.

"The CTRC is an exciting addition to our product line-up, providing our customers with an easy-to-install alternative to our conventional split-core and solid-core CTs," said Cynthia A. Boyd, director of sales for Continental Control Systems. "With its flexible design, the Rogowski coil is perfect for large bus bars and irregular-shaped conductor bundles. In addition, its small profile and light weight allow it to be used on conductors in tight spaces where rigid CTs simply won't fit."
Available for single- and three-phase services, the output of each CTRC coil is connected to a conditioning circuit where it is converted to a 333.33 mVac output. The CTRC coil along with the signal conditioner is compatible with any of the WattNode energy meters providing accurate energy (kW) and power (kWh) production and consumption measurements.
The UL-recognized CTRCs provide accuracies of ±1.0 % from 5 % to 120 % of rated current, and are available in standard loads up to 6000 Amps. The Rogowski coil is offered in four standard diameters from 3.1" round (loads to 1000 Amps) to 12" round (loads to 6000 Amps). Non-standard configurations are available upon request.
The CTRC Rogowski coil, in addition to the entire line of WattNode meters and high-accuracy current transformers, will be on display at the World Energy Engineering Congress (WEEC) 2013 in Washington D.C., and Solar Power International (SPI) 2013 in Chicago.
Featured Product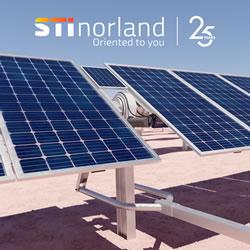 Developed in 2017, the STI-H250â"¢ is consists of two linked torsion beams that rotate simultaneously following the sun's path. They are moved by just one motor, cutting supply and maintenance costs. STI-H250â"¢ dual-row tracker includes backtracking mode to avoid shadowing between adjacent rows and stow function to protect the tracker in extreme wind conditions. For cleaning, vehicles can pass between trackers and each row can be placed in a different position.