2013 Fuel Cell Seminar & Energy Exposition this October 21st – 24th in Columbus, Ohio
Columbia, SC – (September 17, 2013) – The Ohio Fuel Cell Coalition (OFCC) will host a Supply Chain Exchange event on Wednesday, October 23, 2013 from 3:30pm – 6:00pm ET in-conjunction with the 2013 Fuel Cell Seminar & Energy Exposition this October 21st – 24th in Columbus, Ohio at the Greater Columbus Convention Center.

This Supply Chain Exchange event will offer a unique opportunity for suppliers from Ohio and the Midwest to connect with national and international fuel cell integrators. "The Supply Chain Exchange event will allow for business opportunities covering a wide range of component, product and service suppliers," said Pat Valente, Executive Director of the OFCC.
The Supply Chain Exchange event is a participatory exercise linking fuel cell integrators with supply chain companies in one-on-one meetings. Comments received from past attendees by the OFCC pointed to the value of the event from the integrators and suppliers. "I met 16 suppliers!" exclaimed Pat Hearn, Ballard. "Do you know how many trips I would have to make to make that many connections?"
Space is very limited, so if you are interested in participating in the Supply Chain Exchange event at the 2013 FCS&EE, please contact Pat Valente at Pat.Valente@fuelcellcorridor.com or (614)-542-7308. The selection process is based on the needs of the integrators and capabilities of the supply chain. Don't miss your opportunity to network with senior decision makers from across the US, Europe and beyond!
The annual Fuel Cell Seminar & Energy Exposition (FCS&EE) is the premier international gathering of the Fuel Cell & Hydrogen Energy industries and their customers and stakeholders. Over a four day span, the conference hosts 1,000+ attendees and features more than 200 presentations from around the world.
The 2013 FCS&EE theme, "Fuel Cells and Natural Gas: Securing America's Energy Future," expands on the mission to advance global energy, environmental, and economic benefits offered by fuel cells, hydrogen, and natural gas technologies.
Featured activities will include world class Plenary Sessions and Hydrogen & Fuel Cell Presentation Tracks, Educational Short Courses, an Ohio "Industry and Research Facilities Tour" and Supply Chain Exchange event, a public Ride & Drive event featuring Toyota and Honda, and two networking receptions!
Online registration is open through October 18, 2013. The FCS&EE has secured discounted hotel blocks at four hotels surrounding the Convention Center. Reservations are available until September 18, 2013.
Featured Product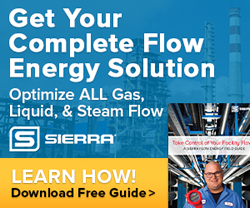 Download Flow Energy Guide - Written by Engineers For Engineers. Learn how to save on energy costs by optimizing your facility flows that impact costs like compressed air, natural gas, steam, and hot or chilled water.