UK Energy Minister Greg Barker visits Seattle and tours Tacoma facilities of Greenwood Clean Energy, makers of next generation wood boilers.
The economic benefits of the United Kingdom's low-carbon and green growth policies were showcased today as British and Washingtonian business and policy leaders met to discuss how the two entities can continue to work together to advance clean tech investment and innovation.

As part of his visit to the Pacific Northwest,
UK Minister for Energy & Climate Change Greg Barker
spoke at a breakfast meeting of the Washington Clean Tech Alliance about how the UK's policies are fostering the growth of clean tech industries. He later toured Bellevue-based
Greenwood Clean Energy's
Tacoma facilities in advance of that company's expansion into the UK market this fall.
"The UK has legally binding 'carbon budgets', aiming to cut UK carbon emissions by at least 80% by 2050. Washington State's like-minded approach to fostering a robust green economy makes it a natural trade and investment partner for the UK," said Minister Barker, who has held his current position since 2010. "The UK imported $1.5 billion in goods from Washington State last year, on top of a strong two-way investment relationship, and we look forward to continuing to expanding it in all sectors, especially clean tech."
UK companies like Rolls Royce and SLR Corporation have been successful in bringing their clean tech know-how and expertise to international markets, including the Pacific Northwest. In addition, the UK's leading energy and sustainability policies and investment have created a strong domestic clean tech market that attracts companies from around the world, including Washington state.
Greenwood Clean Energy, maker of next-generation wood boilers and wood furnaces for residential and light commercial uses, is the latest example of Washington/UK collaboration. Though only four years old, the company has identified the UK as a promising market for the company's energy-efficient products.
"Our expansion into the UK will provide British consumers with a quality product that will save them money while also improving the environment by reducing carbon emissions," said Michael Kuehner, president and co-founder of Greenwood Clean Energy. "We strongly believe the UK market is the right place to continue our company's growth."
The manufacturer is working with the British Government to certify its products for sale in the UK, and already has 70 dealers ready to sell Greenwood products throughout Great Britain. Renewable Heating Incentives (RHI), the UK's long-term financial support program for renewable heat, makes Greenwood's products even more attractive to British families and small businesses alike.
"Greenwood Clean Energy's forward-thinking technology is exactly the kind of innovation we're looking for in the UK," said Minister Barker.
"American clean tech companies that hop the pond to the UK will find a strong market for their products and services and a positive policy environment for doing business."
During his time as Minister at the British Department for Energy and Climate Change (DECC), Minister Barker has overseen the development and implementation of a number of Coalition Government policies to encourage jobs, growth and innovation in the green economy and to protect consumers, and has taken an active role in international climate negotiations including:
• The launch of the ground-breaking Green Deal
• The creation of the world's first-ever Green Investment Bank
• The launch of a UK Energy Efficiency Mission Reforming the Feed-in Tariff system to make it more sustainable and affordable
• Scaling-up international public and private climate finance flows
• Supporting greater deployment of solar in the UK Innovating new approaches to tackle fuel poverty
• Leading Energy Act 2012 on behalf of the British Government, and playing a leading role in taking the Energy Bill through the House of Commons
###
About Greenwood Clean Energy
Founded in 2009, Bellevue, Washington-based
Greenwood Clean Energy
manufactures next generation wood boilers and wood furnaces for residential and light commercial applications. Greenwood's high-efficiency appliances burn wood for space and water heating. Greenwood appliances are available through dealers throughout the U.S., Canada, UK, and New Zealand. For more information visit:
www.GreenwoodUSA.com
Featured Product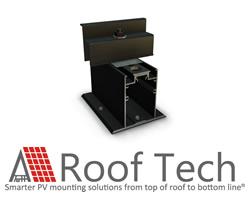 The most compact versatile rail-less PV mounting system under the sun. Instead of placing solar panels on top of long rails, simply attach E Mount AIR to rafters or the roof decking. Once panels are fastened to the roof, the system array is electrically bonded. The result is a visually seamless PV installation that stands the test of time. - Truly "One With The Roof". - PE stamped cert. letters available, UL 2703 Classified, ASTM 2140 fully waterproof. The one and only with integrated flexible flashing certified by the ICC! All the best quality. Only from Roof Tech