Baker Electric Solar is pleased to announce it's taking its solar message to the streets with fleet vehicle branding. Five new installation trucks and 10 trailers are now 24/7 outdoor billboards for Baker Electric Solar.
Escondido, Calif. (PRWEB) September 26, 2013 – Baker Electric Solar, a full-service solar integrator specializing in green technology design / build residential solar and commercial solar installations, is pleased to announce it's taking its brand to the streets of Southern California. In a move to drive sales through brand recognition and customer referrals, Baker Electric Solar has invested in a new mobile advertising strategy.

The company's solar installation fleet vehicles, five trucks and 10 trailers, are wrapped in sunny graphics reflecting the company's corporate logo, byline, graphic features and contact information. Featuring a gradient coloring of bright orange that fades to a golden yellow, the wrap design projects the message of a brighter future for people "Going Solar the Baker Way." The website address and 1-877-5-GETSOLAR are predominantly displayed. Brochure holders are affixed to the sides of the trailers to distribute marketing information when the vehicles are parked.
In the construction industry, job site signs are typically placed on a homeowner's yard. With a Baker Electric Solar's residential solar project, installation vehicles will be on a neighborhood street or in a driveway for two to five days. Traveling to and from the installation also adds to the exposure of the Baker brand. On average Baker Electric Solar vehicles and trailers cover more than 300,000 miles per year.
According to the Outdoor Advertising Association of America (OAAA), outdoor mobile media billboards have a 97% recall rate, and 96% of survey respondents thought mobile advertising is more effective than traditional outdoor advertising. When compared to other traditional forms of advertising, an Arbitron study compared the cost per thousand impressions at $0.35 for a vehicle wrap, as compared to a TV ad at $23.70 per thousand impressions.
Recently named one of Solar Power World's Top 250 solar contractors, Baker Electric Solar installed 2.02 megawatts in 2102 with 5.93 megawatts installed since its founding in 2007. The Escondido-based solar integrator has provided sun-powered options to more than 1300 San Diego County residents. Baker Electric Solar brings its parent company, Baker Electric Inc.'s 75-year history, backing and diversification to its local home and small business customers.
"Referrals are one of our key sources of business," said President, Mike Teresso. "Our vibrantly designed wrapped trailer and truck at a neighbor's house for a solar installation is a definite conversation starter. Whether with one of our technicians or the homeowner, people are curious about the process and the cost savings of going solar. We have already seen an increase in estimates with our Baker brand taking it to the streets."
For more information about going solar with Baker Electric Solar, call (877) 543-8765 or visit http://www.bakerelectricsolar.com.
About Baker Electric Solar
Escondido-based NB Baker Electric, Inc., dba Baker Electric Solar, designs, builds and installs photovoltaic solar power systems for new and existing homes and commercial facilities across Southern California. Baker Electric Solar offers multiple financing options including both zero interest financing to purchase and a zero-down, fixed monthly payment lease. Baker Electric Solar is a BBB accredited business with an A+ rating. In addition, Baker Electric Solar was named one of Solar Power World's 2013 Top 250 Solar Contractors in the nation. It is San Diego's first SunPower Elite Dealer and the 2011 SunPower Regional Residential Dealer of the Year. For more information, visit http://www.bakerelectricsolar.com.
# # #
Featured Product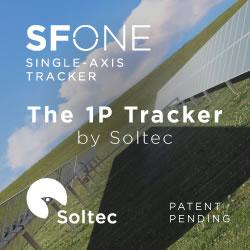 Soltec manufactures and supplies solar trackers designed and proven for extreme climate conditions, which is an ideal solution for any region's environment. Soltec's trackers are self-powered, requiring no additional PV module or grid-powered connection. Bifacial modules collect energy on both the front and rear sides, capturing reflected irradiance from the ground surface under and around the tracker and from other modules. Depending on site conditions, bifacial yield-gain can reach +30 percent.