The Fraunhofer Center for Sustainable Energy Systems is pleased to announce that it will be hosting a partner and stakeholder meeting for its residential solar "plug-and-play" project team at the Solar Power International conference and trade show (SPI) on Monday, October 21st, 2013.
CSE
9;s "plug-and-play" project is a five-year, $11.7M research effort funded by the US Department of Energy's SunShot Initiative and supported by members of industry, academia, and local government. Its ultimate aim is to develop a range of pre-configured solar PV systems that can be installed and commissioned by a homeowner in one day – all without the need for significant permitting, inspection and interconnection processes. Key project partners include the cities of Boston and Worcester, utility companies National Grid, NorthEast Utilities and Green Mountain Power, Sandia National Laboratories, and various manufacturers.
Featured Product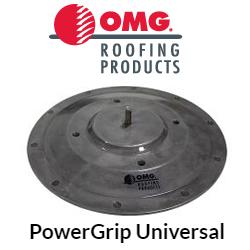 PowerGrip Plus Roof Mount System, a watertight structural attachment system used to secure ballasted solar racks and other equipment to roofs covered with thermoplastic (TPO and PVC) membranes. PowerGrip Plus is designed with wind performance in mind and offers ultimate tensile strength of 2,000 lbf. and ultimate shear strength of 1,075 lbf. Properly installed PowerGrip Plus units reduce rack movement and remaining watertight. PowerGrip Plus units are easy to install, saving both time and labor when compared to alternative options. A wide membrane skirt promotes easy welding in place, and the 15/8 diameter and 1/2 inch tall mount provides an optimal perch for securing brackets or struts. The exposed 1 inch tall and 3/8 inch diameter bolt and mounting stand are made from corrosion-resistant stainless steel and aluminum alloy for superior long-term performance.