New figures from the UK Government have shown that more than 10 million tonnes of CO2 emissions were displaced by renewable electricity generation in Scotland – up by almost a quarter from the previous year.
Niall Stuart, Chief Executive of Scottish Renewables, said:

"Last week's climate change report reinforced the need for concerted action to reduce carbon emissions if we are even to limit the impact of global warming, and these figures show that investment in renewables is already delivering results.
"Ten million tonnes is the equivalent of removing 99.1 per cent of carbon emissions generated from every car, bus, lorry and train journey in Scotland."
The statistics were published in response to a Parliamentary Question tabled by Eilidh Whiteford MP, Banff and Buchan, which was answered by UK Energy Minister Michael Fallon MP.
Mr Fallon revealed that Scotland's renewable electricity industry generated 14,825 gigawatt hours (GWh) in 2012, displacing 10.3 Mt (million tonnes) of CO2. This is a 24 per cent increase on the 8.3Mt of CO2 displaced in 2011.
Mr Stuart added: "Renewables now generate the equivalent of 40 per cent of the demand for power from every home and business in the country, support thousands of jobs across Scotland and are making a massive dent in carbon emissions.
"The sector is delivering exactly what government wants – jobs, investment and lower carbon emissions from our economy."
Featured Product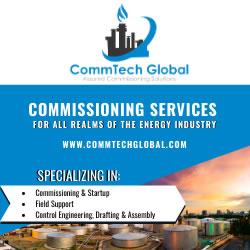 CommTech Global Solutions, LLC, provides professional and reliable commissioning services to customers in all realms of the energy industry. We blend our skills in engineering and technology with innovative business models, offering a complete range of services to assist you for a successful and in compliance operational startup. Consolidation of all our service domains gives our clients a comprehensive set of expertise and far-reaching experience on each project.