Acquisition accelerates Alternative Utility Services' national expansion.
Alternative Utility Services, Inc.(AUS) has announced that it will acquire Cost Containment International, LLC. (C2Intl), an energy procurement and consulting firm specializing in several services including electricity, natural gas and energy consultation with a large client base in the hospitality and condominium markets nationwide. The acquisition agreement will allow Alternative Utility Services (AUS) to immediately expand its customer base nationwide.

"Alternative Utility Services (AUS) and Cost Containment (C2) share a common business culture and commitment to excellent customer service and support," said Fritz Kreiss, President of Alternative Utility Services. "This acquisition will allow AUS to build on Cost Containment's impressive portfolio customer base, while providing the same professional level of service C2 clients have come to expect."
"The entire Cost Containment team of consultants is joining AUS," stated Hans Herrmann, President of Cost Containment International. "We're also excited about having an entire suite of expanded services, back office automation, and being part of an expanding AUS."
Herrmann added, "Beyond seeing a different name and logo on company letterheads, our customers won't notice any difference in their current level of service. In fact, our clients will now have an extended menu of services, offering more ways to save money on their energy costs."
Alternative Utility Services, Inc., was established 1993. It is a licensed nationwide energy consulting company providing energy brokerage and aggregation services across the U.S. AUS provides a wide range of professional procurement and consulting services including electric, gas, residential aggregation, reverse auction, demand response, auditing, benchmarking and developing energy projects. 800-392-4287 www.ausenergy.com
Featured Product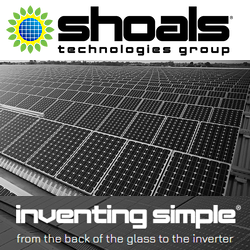 Inventing Simple® isn't just a slogan to us, it's a way of life. Using simple plug-and-play ideology, we revolutionized solar installations in 2003 with our Interconnect System™. Our harnessing system is now the gold standard EPC's use around the world. By using simple ideas, we are making solar energy a more affordable and clean power source for future generations.