Meteodyn and Michel Ferry R&D consulting today announced that they have entered into a definitive agreement under which Meteodyn will acquire MIGAL-S solver source code and exclusivity usage. The transaction was unanimously approved by the boards of directors of both companies.
The acquisition of MIGAL-S, the unique Fully Coupled Multi-Grid solver of the wind energy market, will enable Meteodyn to become the only company providing a CFD software (meteodyn WT) for wind resource assessment in complex terrain using this solver.

Didier Delaunay, President of Meteodyn, said, "We have shared a productive partnership with Michel Ferry to advance the meteodyn WT foundations, and now through this agreement we will be able to do even more to innovate and deliver outstanding solutions across our CFD software suite."
Jean-Claude Houbart, Technical Director of Meteodyn, said, "Acquisition of MIGAL-S gives to meteodyn WT a high technological advantage without equivalent in terms of performance and accuracy compared to commercial software's or open source codes. It offers significant value for Meteodyn and provides compelling new opportunities for meteodyn WT portfolio in terms of diversification and implementation on cluster architectures."
Daniel Dias De Oliveira, Sales Director of Meteodyn, said, "This exclusivity will give us a great advantage with regard to our competitors. Also, we expect it will strengthen cooperation with our partners, existing and future customers around the world."
http://meteodyn.com
About Meteodyn
For 10 years, Meteodyn has been the leading expert in wind engineering, CFD software and climatology. Meteodyn develops wind simulation software and provides a large range of consulting services: wind resource assessment, wind production forecast, wind atlas generation, power production assessment, site suitability analysis, windfarm layout design, site optimization…
The wind park computation software meteodyn WT and meteodyn Forecast are already used by the major wind industries in the world.
About MFRDC
MFRDC – a French software company - develops and markets OEM components dedicated to the simulation software industry. Its products are already incorporated in some of the world's leading simulation packages for CFD, grid generation and optimization. In order to keep abreast of the software technology in the rapidly evolving field of numerical modeling, MFRDC also provides consulting services to transfer and support its technology directly into clients' in-house developments as well as industrial software.
Press Contact:
Delphine Pouzet
Email: delphine.pouzet@meteodyn.com
Featured Product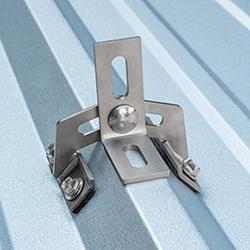 Error-Proof Compression: The QB2 doesn't leave any room for user error when it comes to Microflashing® compression. Once the Dual Drive Shoulder Screw is secured, the Microflashing® is compressed. Only 3 Components: The QB2 is comprised of Microflashing®, an L-foot and a Dual Drive Shoulder Screw. No more Nuts needed to tighten and secure the L-foot! Not only does this simplify the installation process, it also cuts down the installation time.