S6000 DC load break switches will be used in string combiner boxes, re-combiner boxes and inverters for DC applications.
Portsmouth, NH. October 7, 2013 –Woehner USA today announced a range of Telergon's new S6000 DC load break switches. The new switches can be seen in booth # 4615 at Solar Power International 2013 at McCormick Place in Chicago from 21 – 24 October 2013.

Telergon's new S6000 DC load break switches will be used in string combiner boxes, re-combiner boxes and inverters for DC applications. The DC applications are predominantly photovoltaic and power conversion related applications.
"The design of the S6000 DC load break switch delivers a number of key benefits," said Kevin Saunders, Managing Director of Wöhner USA. "It allows the switch to achieve a smaller footprint in photovoltaic combiner box and inverter applications. The elimination of bridging link accessories reduces the total installation space, cost of building the unit and saves on the amount of labor required."
The new switches are available for grounded and ungrounded systems at ratings of 600vdc to 1000vdc according to the UL98B standard. Multiple configurations will be offered to optimize the switch input and output positions according to the customer's panel design. A 1500Vdc version carries an IEC approval (simply because the UL98B standard does not yet extend to this higher voltage). Additionally, the 3-pole units will be UL98 Listed for AC applications to 600Vac.
Luis Aransay, Export Area Manager of Telergon said, "North America continues to be a strategically important market for us and we are optimistic about the potential for the new S6000 DC load break switches."
Telergon and Woehner USA have previously collaborated on some of North America's largest photovoltaic projects. These included the Sarnia, Ontario, Canada installation (97MW), which stood as the largest solar installation in North America, and the Agua Caliente Solar Project (290MW), in Arizona, USA, which eclipsed the Sarnia Project in April 2012.
Woehner USA is the official distributor for the complete range of Telergon photovoltaic (PV) switches in North America. Woehner and Telergon plan to feature this new product range at the Solar Power International show in Chicago in October 2013.
Featured Product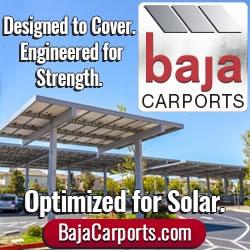 Baja Carports offers an extensive solar support system product line customized to customers' site specifications by in-house engineers, meeting their parking lot coverage, plus optimal PV production needs. Baja's Full Cantilever Tee is often paired with its Semi and Full Cantilever carports to meet live/loads up to 60psf and wind speeds to 160mph. All Baja products are pre-fabricated, bolted connections, pre-galvanized structural steel for fast on-site installation and project aesthetic requirements."