Daetwyler Clean Energy announces the installation of a 2.4MW Ground Mount PV Racking System in Kingston, New Jersey
Huntersville, NC, October, 2013: Daetwyler Clean Energy (DCE) announces the successful installation of a 2.4MW PV system for Trinity Solar in Kingston, New Jersey. The system utilizes Daetwyler's Modu-RackTM-SA single point soil anchoring system.

"Trinity Solar is completing a 2.4MW system utilizing Daetwyler Clean Energy's Modu-Rack SA (soil anchor) ground mount system." stated Tom Pollack President / CEO, Trinity Solar. "The Modu-Rack SA system was chosen based on ease of installation, overall cost, Daetwyler's proven history, and the overall professionalism their team exhibited in dealing with my engineering staff. They exceeded our expectations and helped us fulfill our client's goals. Daetwyler was certainly the right choice for this installation and we truly look forward to working with them again in the near future."
The benefits of DCE's Modu-RackTM-SA include low system cost, economical Installation, the ability to meet all soil conditions, and the capability to preassemble the modules.
Daetwyler Clean Energy is known throughout the renewable energy market as a premier solar mounting hardware manufacturer. Their experienced engineering and global fabrication facilities provide cost effective solar mounting hardware direct to installers and project developers for rooftop (flat and pitched), ground mount, and specialty applications.
For more information on Daetwyler Clean Energy's solar racking solutions, please visit their website www.daetwylerce.com or contact Bill Taylor at 704-659-7474; e-mail: btaylor@daetwylerce.com
Featured Product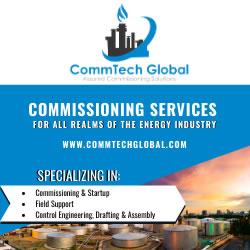 CommTech Global Solutions, LLC, provides professional and reliable commissioning services to customers in all realms of the energy industry. We blend our skills in engineering and technology with innovative business models, offering a complete range of services to assist you for a successful and in compliance operational startup. Consolidation of all our service domains gives our clients a comprehensive set of expertise and far-reaching experience on each project.