Reflects voting drawn from wide-ranging community, industry experts and social media
SAN DIEGO, Oct. 11, 2013 -- Genomatica was voted #1 for the

third year in a row in Biofuels Digest's 30 Hottest in Renewable Chemicals
and Biobased Materials competition. Genomatica has earned the top spot on
the list every year since it was started in 2011.
Genomatica's #1 ranking resulted from voting from 100 invited industry
experts; survey responses from thousands of Biofuels Digest subscribers; and
social media, including tweets, Likes and 'hot picture' submissions.
Genomatica has been delivering a continuing stream of milestones. These
include commercial-scale production of BDO using its process technology;
validation of product quality and application usability from multiple large
companies, including Lanxess, DSM, Toray and Far Eastern New Century; BASF
licensing its process for BDO; and a joint venture with Versalis for
butadiene.
This third #1 Hottest award comes just two weeks after Genomatica won the
2013 Kirkpatrick Award, recognizing 'the most noteworthy chemical
engineering technology commercialized anywhere in the world in the prior two
years.'
"Only Jim Lane could pull together a populist, well-informed competition of
this scale," said Christophe Schilling, Ph.D., CEO of Genomatica. "The
competition brings real and wide-scale attention to an industry that is
commercializing technology that can make a real difference in everyday
products. We're thrilled -- again -- to receive such an honor."
About Genomatica
Genomatica is a widely-recognized technology leader for the chemical
industry. It develops comprehensive manufacturing processes that enable its
licensee partners to produce the world's most widely-used chemicals a
'better way,' from renewable feedstocks, with better economics and greater
sustainability than petroleum-based processes.
Genomatica's first process, for BDO, is now commercial. Genomatica's BDO
process was used to make 5 million pounds of BDO in late 2012; and has been
licensed by BASF and by Novamont. Multiple companies, including Lanxess,
DSM, Toray, and Far Eastern New Century, have confirmed that BDO produced
using Genomatica's process can be used the exact same way for downstream
products as chemicals made from fossil fuel feedstocks, simplifying and
accelerating adoption. Genomatica is developing processes for additional
major chemicals; the next is for butadiene, with Versalis as partner.
Genomatica's recognition includes the Kirkpatrick Award, recognizing the
most noteworthy chemical engineering technology commercialized in the world
in the prior two years; the EPA Presidential Green Chemistry Challenge
Award; the Wall Street Journal Technology Innovation award; and being voted
#1 Hottest three years in a row by Biofuels Digest.
Featured Product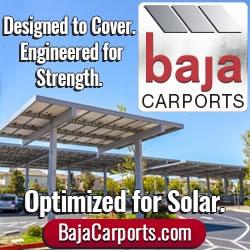 Baja Carports offers an extensive solar support system product line customized to customers' site specifications by in-house engineers, meeting their parking lot coverage, plus optimal PV production needs. Baja's Full Cantilever Tee is often paired with its Semi and Full Cantilever carports to meet live/loads up to 60psf and wind speeds to 160mph. All Baja products are pre-fabricated, bolted connections, pre-galvanized structural steel for fast on-site installation and project aesthetic requirements."