Third quarter figures show investment a fifth down on the same quarter of 2012, as political will to decarbonise energy mix falters
London and New York, 14 October 2013 – Global investment in clean energy was $45.9bn in the third quarter of 2013, down 14% on the second quarter of this year and 20% below the number for Q3 2012, according to the latest data on deals and projects compiled by research company Bloomberg New Energy Finance.

The latest figure makes it almost certain that investment in renewable energy and energy-smart technologies such as smart grid, efficiency, storage and electric vehicles will end this year below 2012's $281bn - a total that was itself 11% down from the record established in 2011.
The third quarter data showed weakness almost across the board, with investment in China, the US and Europe all down on the equivalent period of 2012, the only region to show a rise in activity on both the quarter and the year being the Americas outside the US and Brazil, thanks to firm figures from Canada, Chile and Uruguay.
The main crumb of comfort in the figures is that installation of solar photovoltaic power capacity worldwide is set to hit a new record in 2013 - at some 36.7GW. But much reduced costs per megawatt mean that the dollars invested in that new capacity will almost certainly be below the equivalent for last year.
Michael Liebreich, chief executive of Bloomberg New Energy Finance, commented: "After the slightly more promising second quarter, we now have a very disappointing third quarter figure for investment. $45.9bn is still a substantial amount of money, greater than that invested in the whole of 2004, but the loss of momentum since 2011 is worrying.
"The latest setback reflects policy uncertainty in Europe, the lure of cheap gas in the US, a levelling-off in wind and solar investment in China, and a general weakening of political will in major economies. Governments accept that the world has a major problem with climate change but, for the moment, appear too engrossed in short-term domestic issues to take the decisive action needed."
There continues to be a contrast between overall investment data, which have faltered, and the recent performance of clean energy shares on stock markets around the world. Measured by the WilderHill New Energy Global Innovation Index, or NEX, which tracks 96 quoted companies worldwide, clean energy shares on 9 October were standing nearly 47% up on the year so far and 74% above their lows reached in late July 2012.
The detail of the Q3 investment data shows that asset finance of utility-scale (1MW-plus) renewable energy projects was $26.4bn, down from $31.9bn in the second quarter of this year and $34.8bn in Q3 2012. Notable deals included the financing of 182MW AGL Nyngan & Broken Hill PV Portfolio in Australia for $406.4m and 50MW Shenzhen Jinfan Energy Technology Akesai Aletangxiang solar thermal plant in China for $314m.
Venture capital and private equity investment in specialist clean energy companies was notably weak in the quarter to September. It totalled just $724m, compared to $1.3bn in Q2 and $1.1bn in the third quarter of last year. It was in fact the weakest quarter for VC/PE in the sector since 2005. The biggest deal of the quarter was the $50m fundraising by Massachusetts-based biofuels technology developer Joule Unlimited.
Investment in small-scale capacity of less than 1MW - predominantly rooftop solar on homes and business buildings - was much more resilient, at $17bn in Q3, level with the previous quarter and below third quarter 2012's $20.1bn only because the cost of PV panels has come down so sharply.
Also showing a respectable performance was investment in clean energy companies via the public markets, at $2bn in the third quarter. This was down from a very strong $3.8bn in the second quarter of this year but was above the $1.6bn of Q3 2012. The biggest deal of the quarter was The Renewables Infrastructure Group's IPO on the London Stock Exchange for $461.5m.
Among the major countries, overall clean energy investment showed declines in most. The US saw its total fall to $5.5bn in Q3 from $9.4bn in Q2, China was down at $13bn from $13.8bn, India was at $1.2bn from $1.5bn, and Japan $7.3bn from $7.4bn. Brazil showed a modest rise, from $950m to $1.1bn.
In Europe, German investment was $1.6bn, down from $1.7bn in Q2 and far below the quarterly figures seen in recent years; France saw a fall from $1.2bn in Q2 to $727m in Q3; Italy a modest rebound to $1.3bn from $1.2bn; and the UK a somewhat bigger rally from $1.6bn to $2.6bn.
To read your Press Release, either open the attachment on this email, or access online via the Bloomberg New Energy Finance website by clicking below -
http://www.bnef.com/Download/pressreleases/328/pdffile/?utm_source=newsletter&utm_medium=email&utm_campaign=sendPressReleases
ABOUT BLOOMBERG NEW ENERGY FINANCE
Bloomberg New Energy Finance (BNEF) is the definitive source of insight, data and news on the transformation of the energy sector. BNEF has staff of more than 200, based in London, New York, Beijing, Cape Town, Hong Kong, Munich, New Delhi, San Francisco, São Paulo, Singapore, Sydney, Tokyo, Washington D.C., and Zurich.
BNEF Insight Services provide financial, economic and policy analysis in the following industries and markets: advanced transportation, bioenergy, carbon capture and storage, carbon markets, digital energy, energy efficiency, energy storage, gas, geothermal, hydro & marine, nuclear, power markets, REC markets, solar, water and wind. BNEF's Industry Intelligence Service provides access to the world's most comprehensive database of assets, investments, companies and equipment in the same sectors. The BNEF News Service is the leading global news service focusing on finance, policy and economics for the same sectors. The group also undertakes custom research on behalf of clients and runs senior-level networking events, including the annual BNEF Summit, the premier event on the future of the energy industry.
New Energy Finance Limited was acquired by Bloomberg L.P. in December 2009, and its services and products are now owned and distributed by Bloomberg Finance L.P., except that Bloomberg L.P. and its subsidiaries distribute these products in Argentina, Bermuda, China, India, Japan, and Korea. For more information on Bloomberg New Energy Finance: http://about.bnef.com
ABOUT BLOOMBERG
Bloomberg, the global business and financial information and news leader, gives influential decision makers a critical edge by connecting them to a dynamic network of information, people and ideas. The company's strength – delivering data, news and analytics through innovative technology, quickly and accurately – is at the core of the Bloomberg Professional service, which provides real time financial information to more than 315,000 subscribers globally. Bloomberg's enterprise solutions build on the company's core strength, leveraging technology to allow customers to access, integrate, distribute and manage data and information across organizations more efficiently and effectively. Through Bloomberg Law, Bloomberg Government, Bloomberg New Energy Finance and Bloomberg BNA, the company provides data, news and analytics to decision makers in industries beyond finance. And Bloomberg News, delivered through the Bloomberg Professional service, television, radio, mobile, the Internet and three magazines, Bloomberg Businessweek, Bloomberg Markets and Bloomberg Pursuits, covers the world with more than 2,400 news and multimedia professionals at more than 150 bureaus in 73 countries. Headquartered in New York, Bloomberg employs more than 15,000 people in 192 locations around the world.
Featured Product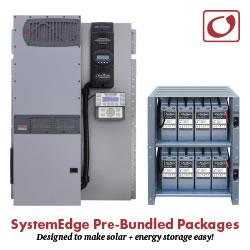 Each pre-bundled package is designed to make solar plus energy storage easy. By combining OutBack's most popular FLEXpower pre-wired systems with matched OutBack energy storage, SystemEdge takes the guesswork out of installing solar plus storage. Every SystemEdge package includes a FLEXpower factory pre-wired system, application-specific EnergyCell batteries and racking, FLEXware ICS Plus combiner and all the necessary connection hardware.