Large- scale PV plants: Solarpraxis and Sunbeam Communications share insights into market developments, technologies, players and areas of application
Berlin, 15.10.2013. The industry report PV Power Plants 2013 is now also available as a free iPad app. The publication is the only one of its kind to focus on large-scale photovoltaic installations and provides comprehensive information on the latest technologies and developments in the most important markets. Other topics revolve around financing and planning of large PV power plants.

The English-language industry report contains useful information on implementing projects and presents the key companies in this market segment. System integrators, project developers, project managers, investors and utility companies can now read up on the market and find suitable project partners on the go.
You can find all information on PV Power Plants 2013 at www.pv-power-plants.com, where a PDF version of the publication is also available for download. On request, printed copies will be sent free of charge.
The app and the high-quality brochure are published by Berlin-based knowledge service provider Solarpraxis AG and the communications agency Sunbeam Communications. The next industry report entitled PV Power Plants 2014 will be published in time for the Intersolar Europe 2014.
You find the iPad app "PV Power Plants 2013" here: https://itunes.apple.com/us/app/pv-power-plants-2013/id715507480?mt=8
See press photos here: ftp://ftp616191:JEVuhymemAmu2y0E@ftp.solarpraxis.de
About Solarpraxis AG
Solarpraxis GbR was founded in Berlin in 1998 by the engineer Karl-Heinz Remmers and Kay Neubert. Solarpraxis AG became a publicly traded company in 2006. Solarpraxis is one of the leading consulting and service companies in the renewable energy industry and is active in the areas of engineering, publishing and conferences.
www.solarpraxis.de/en
About Sunbeam Communications
For 15 years Sunbeam Communications supports ministries, associations and companies in the fields of public relations, new media and communication design. Renewable energies and energy efficiency form the key topics. Sunbeam Communications has been a subsidiary of Solarpraxis AG since 2006.
www.sunbeam-communications.com
Featured Product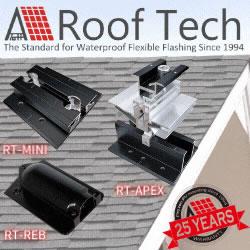 These ongoing webinars cover Roof Tech's background, product design (RT MINI and APEX), code and best practices. You will learn about a proven system that reduces installation time while keeping the integrity of the roofing system. This training will earn you one NABCEP Continuing Education Credit. The webinars are offered every Tuesday from 11 AM PDT to Noon during the months of April and May, 2020.