By eliminating the need for separate module grounding parts and procedures, this innovation can help maximize the long-term reliability of a PV installation while minimizing customers' costs.
Scottsdale, AZ – October 15, 2013 - Kyocera Solar Inc. today announced a strategic alliance with IronRidge to supply high-reliability solar electric generating systems using the market's most advanced module-mounting technologies.

IronRidge is a leading manufacturer, designer and distributor of photovoltaic (PV) mounting solutions, having worked closely with hundreds of PV system installers and integrators on thousands of successful projects since 1996. IronRidge's wide range of rooftop and ground mounting solutions provides the ideal base for Kyocera's residential and commercial solar systems.
"Solar design, integration and installation experts worldwide appreciate the quality, durability and value of IronRidge mounting solutions," said Steve Hill, president, Kyocera Solar Inc. "Kyocera maintains the highest standards for its solar solutions and our customers have enjoyed industry-leading results for almost four decades. Partnering with IronRidge is part of our ongoing commitment to providing the utmost quality solar products and services."
IronRidge recently released its Integrated Grounding System that bonds solar module frames directly to IronRidge Mounting Rails. By eliminating the need for separate module grounding parts and procedures, this innovation can help maximize the long-term reliability of a PV installation while minimizing customers' costs.
The IronRidge Integrated Grounding System has been tested and certified to the Underwriter's Laboratories UL 2703 standard, and Kyocera's modules will be UL 2703 certified compatible with the system in early 2014. Underwriters Laboratories is a global independent safety science company specializing in certification, validation, testing, inspections, auditing, education and advisory services. UL 2703 certification allows module mounting and clamping components to be evaluated and listed as a grounding means. The certification is invaluable in helping installers to meet building code requirements, lower costs and streamline installation.
IronRidge also offers sophisticated online tools that make it easy for customers to efficiently configure and procure roof and ground-mounted systems for their specific projects.
Kyocera and IronRidge both have long records of success in the solar market, with knowledgeable and experienced engineers who focus on providing industry-leading customer service. The partnership is also logistically beneficial to Sun Belt customers: both feature engineering support located in the Phoenix / Scottsdale area, and offer shipping services from California and the Northeast region (NJ and PA).
"This partnership brings together two of the best-known names in the US solar industry," said William Kim, CEO of IronRidge. "Together, IronRidge and Kyocera bring decades of experience to each customer, and our collaboration will help ensure the highest-quality solar installations for decades to come."
To learn more about Kyocera Solar Solutions for both residential and commercial projects, please contact infosolar@kyocera.com or 800-223-9580.
About KYOCERA
Kyocera is one of the world's leading producers and suppliers of solar photovoltaic modules and systems. With a 38-year history of innovation in solar technology, the company is recognized as an industry pioneer and has set repeated world records in multicrystalline silicon cell efficiency. Kyocera serves thousands of residential and industrial customers in both developed and developing regions, with more than 3 gigawatts of solar collection equipment installed since 1975.
Kyocera Solar, Inc. is headquartered in Scottsdale, Arizona with regional sales affiliates in the Americas and Australia.
Kyocera Corporation (NYSE:KYO) (TOKYO:6971), the parent and global headquarters of the Kyocera Group, was founded in 1959 as a producer of fine (or "advanced") ceramics. Kyocera specializes in combining these engineered materials with other technologies to create solar power generating systems, printers, copiers, mobile phones, electronic components, semiconductor packages, cutting tools and industrial components. During the year ended March 31, 2013, the company's net sales totaled 1.28 trillion yen (approx. USD13.6 billion).
About IronRidge
IronRidge designs and manufactures mounting hardware for residential and commercial solar systems. For more than 15 years, we've worked closely with installers and integrators to build products that are simple, reliable and help minimize the total cost of installation. For more information, visit www.ironridge.com
Featured Product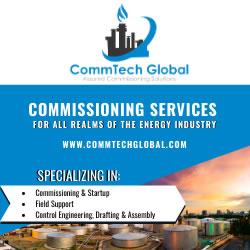 CommTech Global Solutions, LLC, provides professional and reliable commissioning services to customers in all realms of the energy industry. We blend our skills in engineering and technology with innovative business models, offering a complete range of services to assist you for a successful and in compliance operational startup. Consolidation of all our service domains gives our clients a comprehensive set of expertise and far-reaching experience on each project.