Solar energy in Australia is fast becoming the most cost effective way of achieving energy efficiency.
Sydney (pta/15.10.2013/10:30) Photon Energy Australia has been selected to build and operate a 290 kWp roof mounted photovoltaic system on a large office building in Sydney. As one of the largest systems ever installed in the inner city environment the solar PV system will be the building's main daytime power source. Solar energy in Australia is fast becoming the most cost effective way of achieving energy efficiency.

Photon Energy Engineering Australia, a subsidiary of global solar power solutions and services company Photon Energy N.V., is proud to confirm it has been selected to build and operate a solar power system for a major office building in Sydney's Central Business District (CBD). The contract includes the design and installation of a 290 kWp integrated roof-mounted PV system for the building in the CBD, as well as operations and maintenance. The PV system is scheduled to be connected in 2014 and will provide the client with enough electricity to cover a major part of their daytime energy demands and reduce the building's carbon emissions.
"This project in an ideal example of the new reality of solar energy, which no longer relies primarily on state-mandated support systems, but directly delivers energy to end consumers to reduce energy bills", says Georg Hotar, CEO of Photon Energy Group. "PV-systems for self-consumption equally raise a company's profile, which can be a vital factor in a market where customers increasingly demand that corporates walk the talk on resource efficiency", Hotar adds. Solar energy as a power source protects companies against volatile and growing energy prices, thereby raising shareholder value and provides a competitive advantage.
"We believe this is the single largest roof-mounted building-integrated PV system in Sydney ", says Michael Gartner Managing Director of Photon Energy Australia. "We are proud to be associated with this flagship project, which highlights that solar PV has reached the tipping point of becoming the most cost effective way of achieving energy efficiency and is a viable choice even given the constraints of inner city locations", Gartner continues.
The PV system will assist in achieving a 5 Star Greenstar and 5 Star NABERS rating, two rating systems evaluating the environmental design and construction of buildings. The power plant will be used to cover daytime loads with the possibility to export surpluses to the grid, thus generating additional revenue. The system is designed to cover a certain amount of electricity to the building per annum in order to meet the NABERS rating and utilises the available roof surfaces and exposed facades to maximise the output per square meter at the lowest cost per kWh.
"Photon Energy Australia is making solar electricity competitive with power from the grid. In fact, solar electricity is now the cheapest option for many power consumers in Australia," says Michael Gartner, Managing Director of Photon Energy Australia. Photon Energy provides complete PV solutions and thereby reliable and cost effective electrical power wherever it is needed. "Commercial consumers can cover a large portion of their day-time electricity demand from their own on site PV system at a lower fixed price to avoid the increasing cost of the power grid," Gartner concludes.
Featured Product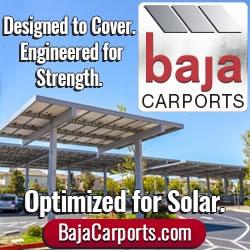 Baja Carports offers an extensive solar support system product line customized to customers' site specifications by in-house engineers, meeting their parking lot coverage, plus optimal PV production needs. Baja's Full Cantilever Tee is often paired with its Semi and Full Cantilever carports to meet live/loads up to 60psf and wind speeds to 160mph. All Baja products are pre-fabricated, bolted connections, pre-galvanized structural steel for fast on-site installation and project aesthetic requirements."