Leading Solar Power and Clean Technology Companies to Hold Fire-Side Chats and Investor Meetings
ROTH Capital Partners (ROTH), www.roth.com , a full service investment bank focused on serving emerging growth companies and their investors, today announced that it will host a Solar Symposium on Oct. 23, 2013 in Chicago, IL in conjunction with the Solar Power International Conference and Expo (SPI 13), the largest annual solar conference/expo in the U.S.

This one-day invitation only event will provide an opportunity for solar power industry executives, policy makers and key institutional investors to meet and exchange ideas about issues and trends in the solar and clean technology industry. The event, which will be hosted by Jesse Pichel, ROTH's Managing Director, Investment Banking Clean Technology, Industrial Growth and Energy, is expected to be widely attended.
"While the long term thesis of PV grid parity remains intact, there is much debate about the recent run up of share prices for public solar energy companies, and near term industry prospects," said Pichel. "We believe the symposium will help to address these concerns, while also providing greater clarity with respect to specific drivers including: 1) Demand trends in the Americas and Asia, 2) Industry utilization and pricing, 3) polysilicon feedstock pricing trends, and 4) the rising amount of "YieldCo" investment pools dedicated for both residential and utility scale PV development. The symposium will also feature emerging solar technologies and new business models that may have an impact on the broader landscape in the long term."
Through fire side chat presentations, group and one-on-one meetings, as well as an industry keynote by Rhone Resch, President of Solar Energy Industries Association (SEIA), attendees will hear from today's leading solar power and clean technology companies including:
*Yingli Green Energy Holding Co. Ltd. (YGE)
*Amtech Systems (ASYS)
*Canadian Solar (CSIQ)
*Clean Power Finance, Inc. (Private)
*Enphase Energy, Inc. (ENPH)
*JA Solar (JASO)
*JinkoSolar Holding Co., Ltd. (JKS)
*LightBeam Electric Company (Private)
*Real Goods Solar (RSOL)
*ReneSola Ltd. (SOL)
*Solar Energy Industries Association (SEIA)
*SolarEdge Technologies Ltd. (Private)
*Verengo, Inc (Private)
*Vivint Solar (Private)
As of 10/16/2013 - Subject to change
"This event will reinforce our firm's deep domain expertise in capital transactions and advisory services as well as equity research for emerging cleantech and industrial growth leaders," said Byron Roth, CEO of ROTH Capital Partners. "We are excited to support SEIA and co-host this event at SPI 13".
Since 2011, ROTH has assisted its cleantech and industrial growth clients in raising over *$1 billion in more than 30 transactions. ROTH's cleantech and industrial growth clients cover a broad spectrum of sectors including renewable energy, demand side management, green transportation, energy infrastructure, recycling/waste management, auto parts and equipment, and manufacturing and process technologies. *Past Performance is not indicative of future returns. (Source: ROTH Capital 10/16/2013)
ROTH is a founding member of CleanTech OC, a trade association that seeks to promote economic growth in the Orange County clean technology industry as well as a member of Solar Energy Industries Association (SEIA).
ROTH is also hosting an evening Oktoberfest networking event for registered guests and attendees.
Morrison & Foerster LLP, SEIA and Business Wire are event sponsors.
Clients interested in attending should contact their ROTH sales representative. Members of the media who would like to attend should contact Isabel Pain at 949-720-7117 or imattson-pain@roth.com. To learn more or register for SPI, please visit the event web site at - http://solarpowerinternational.com
About ROTH Capital Partners, LLC:
ROTH Capital Partners, LLC (ROTH), is a relationship-driven investment bank focused on serving emerging growth companies and their investors. As a full-service investment bank, ROTH provides capital raising, M&A advisory, analytical research, trading, market-making services and corporate access.
Headquartered in Newport Beach, Calif., ROTH is privately-held and owned by its employees, and maintains offices throughout the U.S. and Hong Kong. For more information on ROTH, please visit www.roth.com.
Featured Product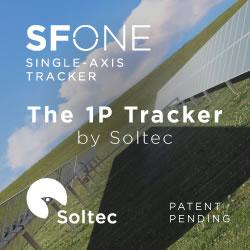 Soltec manufactures and supplies solar trackers designed and proven for extreme climate conditions, which is an ideal solution for any region's environment. Soltec's trackers are self-powered, requiring no additional PV module or grid-powered connection. Bifacial modules collect energy on both the front and rear sides, capturing reflected irradiance from the ground surface under and around the tracker and from other modules. Depending on site conditions, bifacial yield-gain can reach +30 percent.