Strategic advances in America's growing low carbon energy revolution bring economic and environmental benefits in an "All-of-the-Above" energy world. It is the highlight of Texas Renewables 2013.
America is in the midst of a low carbon energy revolution. New energy technology has delivered much needed energy independence to the U.S. In San Antonio, nationally recognized speakers showcase the "All-of-the-Above" energy world and impacts of drastically reduced carbon emissions at Texas Renewables 2013. The conference and exhibit is organized to provide a solid understanding of forces at play, of economic and environmental benefits and strategies on continued growth for all Texas energy providers. Texas Renewables 2013 runs November 11 – 13 in San Antonio, TX at the Omni Colonnade, 9821 Colonnade Blvd, San Antonio, TX.

This exciting new conference experience includes TED style talks, video transitions, industry CEO panels and an exceptional lineup of speakers.
Leading keynotes and speakers include:
• Dr. Dan Arvizu, Director, National Renewable Energy Laboratory, NREL
• Dan Reicher, Executive Director, Steyer-Taylor Center for Energy Policy and Finance, Stanford University
• Former Mayor San Antonio, Phil D. Hardberger, Cox Smith Attorneys
• Doyle N. Beneby, President and Chief Executive Officer - CPS Energy
• Doug Arent, Director, Joint Institute for Strategic Energy Analysis, a coalition of five universities including MIT and Stanford
• Former State Senator Kip Averitt, Averitt & Associates, Chairman, Texas Clean Energy Coalition
• Dr. Jurgen Weiss, Principal, The Brattle Group
• Brigadier General Robert. D. Labrutta, Joint Base San Antonio
• Tony Dorazio, Chief Executive Officer, OCI Solar
• Dub Taylor, Director, State Energy Conservation Office
Big picture topics include:
• Renewable Energy Opportunities Related to Fossil Fuels
• Market Opportunities and Economic Development in Rural Texas
• Renewable Energy Opportunities with the Defense Community
• Innovative Renewable Energy Policies and Projects Across the State
Dr. Arvizu delivers a keynote on Renewable Energy in an "All-of-the-Above" World. Arvizu is one of the world's leading experts on renewable energy and sustainable energy. As NREL's laboratory director, he has established and implemented a new institutional strategy to position the lab for higher impact and contributions to national and global energy challenges.
Reicher addresses the question, "Are renewables and fossil fuels in an 'All-of-the-Above' energy world a fit or a fight?" Following Reicher keynote, a panel expands on the topic. Dr. Jurgen Weiss, Principal, The Brattle Group reviews aspects of a report his group researched and published in June on the interplay between natural gas and renewable energy resources in the Texas electric energy market. Regarding the report former Texas senator Kip Averitt, Chairman, Texas Clean Energy Coalition said, "Going forward, Texas will reap huge economic and environmental benefits as the market learns how natural gas and renewables complement each other."
Texas Renewables Conferences organized annually by Texas Renewable Energy Industries Association (TREIA), represent hundreds of member companies, organizations, and individuals providing products, services and information within Texas' growing renewable energy sector. Founded in 1984, TREIA is a key trade and advocacy organization headquartered in Austin, Texas. TREIA http://www.treia.org/ is the oldest renewable energy non-profit trade organization in Texas whose work promoting development of renewable resources and their wise use has spanned a quarter of a century. For more conference information on Texas Renewables 2013 go to www.TexasRenewables.org or call 830-456-1341.
# # #
Featured Product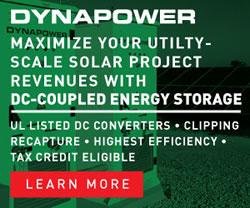 The addition of energy storage to an existing or new utility-scale PV installation allows system owners and operators the opportunity to capture additional revenues. Traditional storage plus solar applications have involved the coupling of independent storage and PV inverters at an AC bus or the use of multi-input hybrid inverters. An alternative approach - coupling energy storage to PV arrays with a DC-to-DC converter - can help maximize production and profits for existing and new utility-scale installations. DC-Coupled Utility-Scale Solar Plus Storage leads to higher round-trip efficiencies and lower cost of integration with existing PV arrays and at the same time, opens up new revenue streams not possible with traditional AC-coupled storage, including clipping recapture and low voltage harvesting, while being eligible for valuable tax incentives.