This decision is a major victory for energy storage and electricity grid as a whole
Washington, D.C. – The California Public Utilities Commission (CPUC) unanimously passed Commissioner Carla Peterman's proposed target for procurement of 1.3 gigawatts of energy storage by 2020 from the state's three investor-owned utilities, aggregators, and other energy service providers.

"The Electricity Storage Association is delighted with the CPUC's unanimous landmark decision to pass the proposed energy storage target today. The first of its kind, this decision is a major victory for energy storage and our electricity grid as a whole. As we transition to a true 21st century grid, storage will be essential to making it resilient, efficient, clean and cost-effective. We look forward to working with all stakeholders to achieve these goals, foster innovation and create sustainable jobs," said Darrell Hayslip, Chair of the Electricity Storage Association.
The ESA had provided substantive comments during the Commission's process, giving valuable support and data to the CPUC in support of their decision.
For more information about electricity storage, go to www.electricitystorage.org
Featured Product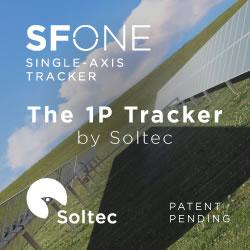 Soltec manufactures and supplies solar trackers designed and proven for extreme climate conditions, which is an ideal solution for any region's environment. Soltec's trackers are self-powered, requiring no additional PV module or grid-powered connection. Bifacial modules collect energy on both the front and rear sides, capturing reflected irradiance from the ground surface under and around the tracker and from other modules. Depending on site conditions, bifacial yield-gain can reach +30 percent.