PROINSO is to present its new solutions at Solar Power International 2013 (Chicago), to be staged from 21 to 24 October (Stand 1331). Solar Power International is the solar energy industry's most powerful show in North America, with exhibitors from as many as 75 countries and attracting over 15,00
• The company is strengthening its position in the American solar PV market, where it has a long-established office in Sacramento, California, and 384 Qualified Installers who are members of its International Network.

• PROINSO became an SMA official dealer in USA following the contract signed between both companies in July. Under this agreement, the multinational firm is the supplier of SMA inverters for homes and businesses, and inverters for hybrid energy solutions across USA.
• To serve installers and customers from the North American, Mexican and South American markets, PROINSO has recently launched a call centre with bilingual Spanish and English customer support service. The new call centre adds to the existing online PROINSO STORE.
21 October 2013. PROINSO, leading supplier of solar PV products, is participating in the Solar Power International trade show (Stand 1331), held in Chicago from today to 24 October. It is the leading show in the solar power sector in North America, with some 700 exhibitors from as many as 75 countries and drawing more than 15,000 professional visitors.
PROINSO USA has been a leading supplier of SMA products in USA since PROINSO and SMA signed a business agreement in July under which the former became an SMA official dealer in America. Although PROINSO and SMA have been working together since 2007, the former being an international SMA dealer, the new contract signed in 2013 places PROINSO among the leading SMA dealers worldwide, delivering products for both residential and commercial use to installers and customers in USA.
At Solar Power International 2013, PROINSO is to present the latest products from SMA, for instance, the Tripower three-phase inverter. This inverter is designed to meet the needs of high-performance solar PV power plants in USA with large-scale off-grid solar systems that can hold up to 1,000 volts.
PROINSO decided to participate in Solar Power International 2013 because it is interested in strengthening its presence and penetration in the USA market, where it has an office in Sacramento (California) and 384 members of its International Network of Qualified Installers, with 2,432 members around the world.
In this week's trade show, the multinational will showcase the new PV-DIESEL hybrid solutions, which combine PV arrays and diesel generators. PV-DIESEL hybrid systems can be used with diesel engines from 300kVA, which admit a 210kWp PV installation, to 6MVA, which require a 4.1MWp panel installation. This solution can operate with five engines in parallel.
The main advantage of PROINSO hybrid systems is that they reduce diesel consumption, which means they are cost-effective and help reduce CO2 emissions. The PV-DIESEL systems from PROINSO help users save from 66,000L/year with 300kVA engines and a 210kWp PV system operating 365 days a year, depending on radiation zone, installation dimensions, and number of hours the engine is on.
TELEPHONE AND ONLINE SUPPORT
The company has recently launched a telephone support service for installers in the American, Mexican and South American markets. English- and Spanish-speaking PROINSO agents answer phone calls at (+1) 916 374 8722.
Additionally, PROINSO's Qualified Installers in USA can purchase products at PROINSO STORE (http://store.proinso.net), an innovative online store opened in 2011 with a wide array of modules and inverters from brands like Jinko Solar, Canadian Solar, ReneSola or SMA.
PROINSO STORE is being updated all the time to show the latest arrivals and current market prices. Members of the International Network of Qualified Installers enjoy additional advantages at the online store, like discounts on retail prices for bulk purchases.
ABOUT PROINSO www.proinso.net
PROINSO specialises in the supply of PV modules, solar kits, inverters, structures and solar trackers, solar solutions for urban applications in public areas, vehicle recharging stations, self-consumption installations, stand-alone PV power systems and monitoring systems.
With international markets accounting for 88% sales, PROINSO has branches in Spain, Germany, Greece, Italy, USA, Great Britain, Canada China, Brazil, Australia, Japan, South Africa and India. Recently, the company opened a new branch in Mexico.//
Featured Product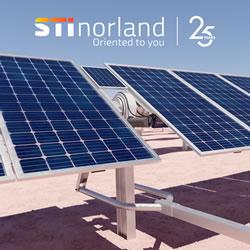 Developed in 2017, the STI-H250™ is consists of two linked torsion beams that rotate simultaneously following the sun's path. They are moved by just one motor, cutting supply and maintenance costs. STI-H250™ dual-row tracker includes backtracking mode to avoid shadowing between adjacent rows and stow function to protect the tracker in extreme wind conditions. For cleaning, vehicles can pass between trackers and each row can be placed in a different position.