AlsoEnergyAcquires DECK Monitoring
Chicago, Illinois, U.S.A. –October 22, 2013: AlsoEnergy Inc., a Boulder, CO based renewable energy monitoring and portfolio-management company, and DECK Monitoring LLC, a Portland, OR based direct-to-customer PV (photovoltaic) monitoring firm today announced the creation of the preferred provider of independent PV monitoring systems in the U.S. market. AlsoEnergy acquired DECK Monitoring in a definitive agreement between the two privately held companies. The terms of the agreement have not been released. AlsoEnergy CEO Robert Schaefer leads the combined company. DECK Monitoring will continue to do business as an independent subsidiary of AlsoEnergy. The DECK Monitoring management team led by president Cosmos Corbinwill continue to run the DECK Monitoring organization. The combined company now manages over one Gigawatt of PV and two Gigawatts of power quality equipment.

"The combined company is now the market leader among independent PV monitoring vendors in the U.S. based on 2012 new Megawatt count," according to Cedric Brehaut, Principal at SoliChamba Consulting. Brehaut is the go-to source for quantitative assessment of the PV monitoring market, and author of the'Global PV Monitoring: Technologies, Markets and Leading Players, 2013-2017' report (published July, 2013 by GTM Research).
"With this acquisition, Also Energy brings together their strength in OEM sales to third party owners, and the DECK Monitoring strength in the solar integrator channel for direct-to-customer solar sales." commented Cedric Brehaut. "This creates a new market leader, an independent monitoring powerhouse for the U.S. commercial and utility-scale PV space."
"We brought the companies together from a position of strength, to provide customers the winning combination of products, services and experience," said AlsoEnergy CEO Robert Schaefer, "We are combining complimentary and market leading solutions in analytics and superior support. This combination immediately broadens customer choices from a financially strong provider, poised to continue innovating best-in-class energy monitoring solutions."
"Our team has a strong commitment to both product lines. Customers can expect the same teams, the same products, the same service, and the same dedication to our customers moving forward," said DECK Monitoring president Cosmos Corbin. "Our focus will continue to be providing the best value and service in the energy monitoring industry."
"Our collective long term mission is to strengthen both product lines, ultimately incorporating the best aspects of each product into both," commented Also Energy CTO Holden Caine. "We have the opportunity now to further mature the components of our solution and bring a larger engineering group together to enhance value in each of these areas.We will continue to provide best-in-class data acquisition and control hardware customized to fit the needs of all of our customers."
About DECK Monitoring, LLC
DECK Monitoring's mission is to help businesses and individuals with the energy intelligence they need to effectively measure and manage energy. For more information, visit www.deckmonitoring.com.
About AlsoEnergy, Inc.
AlsoEnergy provides the most comprehensive energy monitoring and financial management software solutions for renewable energy developers, manufacturers and investors who are establishing today's clean-tech industry standards and best practices. From residential and government to commercial and utility grade applications, AlsoEnergy's technology platform increases business results with online access to critical cost and production data. With the industry's only complete client-customized web application, AlsoEnergy's unique architecture and price point reduce risk, improve energy supply chain transparency and bring strategic vision to energy portfolio administration and the global clean-tech marketplace. For information, visit www.alsoenergy.com.
Featured Product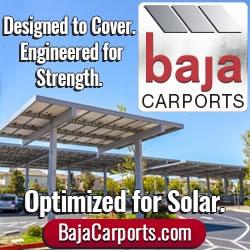 Baja Carports offers an extensive solar support system product line customized to customers' site specifications by in-house engineers, meeting their parking lot coverage, plus optimal PV production needs. Baja's Full Cantilever Tee is often paired with its Semi and Full Cantilever carports to meet live/loads up to 60psf and wind speeds to 160mph. All Baja products are pre-fabricated, bolted connections, pre-galvanized structural steel for fast on-site installation and project aesthetic requirements."