CSP Today has launched its 3rd Concentrated Solar Thermal Power Conference & Expo, in which the main stakeholders, local and international CSP community, will be present at the summit to overcome current challenges facing the industry.
CSP Today South Africa will take place on the 8-9th April 2014 in Cape Town. The meeting will take place at the Southern Sun hotel, where a perfect combination of developers, investors, official representatives, will discuss how to take advantage of 200 MW under construction and 200 MW of tenders.

This year's agenda combines the perfect mix of local and international experts to help you overcome key financial and technological challenges, addressing the most critical topics in order to achieve cost reduction and mitigate risk perception to boost confidence and reliability on CSP.
A key feature of the event is the session where banks and funding institutions will delve deep on how to secure financing. Top executives from leading companies such as ACWA Power and SolarReserve will be presenting their expertise and strategies to on how to overcome the most important CSP challenges. Roundtables will have an important role creating and promoting work groups, so know-how is shared amongst CSP professional with the objective of accelerating the learning curve.
Over 150 CSP professionals will be in attendance, with 25+ expert speakers confirmed. Among the leading companies speaking are SolarAfrica, Webber Wentzel and institutions including IDC, CSIR, IFC, ESKOM, SANEDI and Stellenbosch University.
For more information on CSP Today Enhanced Plant Engineering 2013 please visit: http://www.csptoday.com/southafrica/
About CSP Today
CSP Today is the reference point for CSP professionals and a cornerstone for communications within the industry. We provide business intelligence to the industry with focused news, events, reports, updates and information for the Concentrated Solar Thermal Power industry in markets such as India, South Africa, Spain, USA, Chile and the MENA region. For more information visit www.csptoday.com
Contact:
Brandon Páramo
CSP Today
brandon@csptoday.com
Featured Product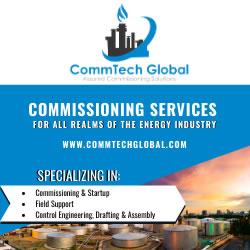 CommTech Global Solutions, LLC, provides professional and reliable commissioning services to customers in all realms of the energy industry. We blend our skills in engineering and technology with innovative business models, offering a complete range of services to assist you for a successful and in compliance operational startup. Consolidation of all our service domains gives our clients a comprehensive set of expertise and far-reaching experience on each project.