One-Megawatt System Among State's Largest
HAMDEN, Conn., Oct. 22, 2013 -- SolarCity (Nasdaq:SCTY) have begun work on a 1-megawatt solar system for the South

Central Regional Water Authority in Hamden, CT. The ground-mounted solar
system is expected to include more than 4,000 solar panels--making it one of
the largest in the state. The Regional Water Authority (RWA) will save money
by paying less for the solar power than they're currently paying for utility
power while reducing both pollution and water use.
"This solar photovoltaic system, one of the largest of its kind in
Connecticut, will allow the Authority to be more efficient and lower our
energy costs. These savings are passed on to our customers in the form of
reduced rate increases," said Larry L. Bingaman, the Regional Water
Authority's President and CEO.
SolarCity, with Connecticut operations based in Rocky Hill, will install,
finance and maintain the panels. The 1-megawatt (mW) ground-mounted system
is expected to provide more than 1.4 million kilowatt-hours (kwh) of energy
each year--enough to power more than 120 average-sized Connecticut homes.
The project supports the RWA's strategic goals of operating more efficiently
and promoting environmental sustainability, and fosters the Town of Hamden's
"Clean and Green" initiative.
"The South Central Connecticut Water Authority's use of clean energy is not
only saving money for rate payers, it's also saving water by offsetting
dirty energy sources that use water as part of the electricity generation
process," said Leon Keshishian, SolarCity's East Coast Regional Vice
President. "Solar makes sense for all types of businesses, municipalities
and homeowners here in Connecticut."
SolarCity can provide Connecticut residents, businesses and municipalities
the ability to go solar simply and affordably, in many cases, for less than
they pay for utility bills. Interested homeowners, municipalities and
businesses in Connecticut can contact SolarCity directly at 1-888-SOL-CITY
(1-888-765-2489) for a free, no-obligation solar consultation or visit
SolarCity online at:
www.solarcity.com/request.
About SolarCity
SolarCity(R) (Nasdaq:SCTY) provides clean energy. The company has disrupted
the century-old energy industry by providing renewable electricity directly
to homeowners, businesses and government organizations for less than they
spend on utility bills. SolarCity gives customers control of their energy
costs to protect them from rising rates. The company offers solar power,
energy efficiency and electric vehicle services, and makes clean energy easy
by taking care of everything from design and permitting to monitoring and
maintenance.
SolarCity currently serves 14 states and signs a new customer every five
minutes. Visit the company online at www.solarcity.com and follow the
company on Facebook & Twitter.
Featured Product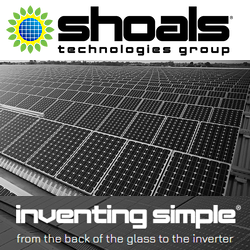 Inventing Simple® isn't just a slogan to us, it's a way of life. Using simple plug-and-play ideology, we revolutionized solar installations in 2003 with our Interconnect System™. Our harnessing system is now the gold standard EPC's use around the world. By using simple ideas, we are making solar energy a more affordable and clean power source for future generations.