The EnerPlex Product line is quickly becoming recognized as the gold standard of solar-integrated consumer electronics
THORNTON, Colo.--Ascent Solar Technologies, Inc. (NASDAQ:ASTI), a manufacturer of consumer and off-grid products integrated with flexible thin-film photovoltaic modules (CIGS), announced today the availability of its EnerPlex™ product line via NewEgg.com.

The EnerPlex Product line is quickly becoming recognized as the gold standard of solar-integrated consumer electronics, providing consumers with lightweight, powerful and extremely durable charging solutions for all their portable electronics. Surfr™, a line of solar and battery integrated phone cases, allows users to charge their phone anywhere and in cases of emergency. Kickr™, a line of portable solar chargers, provides a charging solution for most USB-enabled devices providing power almost anywhere and in nearly every situation and is perfect for emergency preparedness. With the addition of the Jumpr™ line of portable batteries, consumers now have a complete, integrated, solar charging and storage solution for life on the go.
Newegg®, based in Whittier, California, is rated as the #1 Computers/Electronics E-Retailer by ForSee Results and the #12 Consumer Electronics Retailer by TWICE Magazine.
Victor Lee, President & CEO of Ascent Solar, said, "We view the listing of our products at Newegg.com as an exceptional new sales channel for our EnerPlex products. Combined with other recent announcements of our sales channel expansion the demand for our products is growing rapidly."
About Ascent Solar Technologies:
Ascent Solar Technologies, Inc. is a developer of thin-film photovoltaic modules with substrate materials that are more flexible, versatile and rugged than traditional solar panels. Ascent Solar modules can be directly integrated into consumer products and off-grid applications, as well as aerospace and building integrated applications. Ascent Solar is headquartered in Thornton, Colorado. For more information, go to www.ascentsolar.com.
About EnerPlex™: The EnerPlex™ brand is a registered trademark in the United States, Australia, Hong Kong, European Community, and Japan. The EnerPlex brand represents Ascent's line of consumer products. These products, many of which are integrated with Ascent's proprietary CIGS technology, provide consumers with the ability to integrate solar into their everyday lives, while enabling them to free themselves and their electronics from the outlet. For more information on the EnerPlex brand and to see the product line, please visit www.goenerplex.com.
Featured Product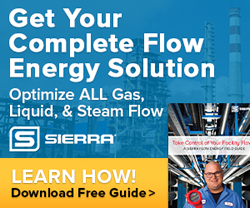 Download Flow Energy Guide - Written by Engineers For Engineers. Learn how to save on energy costs by optimizing your facility flows that impact costs like compressed air, natural gas, steam, and hot or chilled water.