Representatives in more than 40 countries have utilized the Clean Energy Solutions Center's Ask-An-Expert service to request clean energy policy information and advice at no cost.
The Clean Energy Solutions Center Ask-An-Expert service today reached an impressive milestone, responding to its 100th request for no-cost clean energy policy support. This accomplishment demonstrates the growing demand for this unique service, which connects those seeking clean energy policy information and advice to more than 30 global policy experts who can help them achieve their goals. To date, representatives in more than 40 countries have utilized the Ask-An-Expert service.

"Responding to 100 requests is a tremendous accomplishment that speaks to the quality of guidance our experts provide," said Solutions Center initiative lead Ian Lloyd. "Governments and organizations looking for technical policy assistance know that the Solution Center's Ask-an-Expert service will offer top-notch advice that is specific to their situation."
Since its launch in January 2012, Ask-an-Expert has provided assistance to advance energy efficiency and renewable energy technologies; enhance energy access; and address other municipal, state, and national clean energy objectives. This assistance has included developing strategies, standards, financial incentives, and deployment programs; reviewing draft measures and strategies; conducting research and sharing best practices.
The 100th request for assistance came from Kenya related to the intersection of energy access and the health sector. Notable achievements to date supported by Ask-an-Expert assistance include the following:
• Provided support to the Caribbean Community (CARICOM) member states to set regional and national sustainable energy targets in the CARICOM Energy Policy.
• Assisted the South African National Energy Development Institute (SANEDI) with the design of a regulation—which has since been adopted—to promote energy efficiency in the commercial building sector.
• Helped Malaysia analyze the trade-offs between Feed-in-tariffs (FITs) and competitive tendering for large solar PV projects.
• Provided assistance to Mauritius to expand development of solar hot water schemes for the residential sector.
Representatives of countries receiving assistance have commended the Ask-an-Expert service as an indispensable tool for advancing clean energy. "The assistance you have provided has proven invaluable to our work here," said Barry Bradencamp with SANEDI.
Ask-An-Expert requests can be submitted through the Solutions Center website at cleanenergysolutions.org/expert. Clean energy policy support is available to representatives of government agencies, organizations, and institutes assisting governments, as well as to select others. Support is limited to remote assistance and to clean energy policy topics, and the Solutions Center does not provide assistance with project development or technology and system assessment.
An initiative of the Clean Energy Ministerial, the Clean Energy Solutions Center serves as a first-stop clearinghouse of clean energy policy services and resources. In addition to Ask-an-Expert policy assistance, the Solutions Center offers training and peer-to-peer learning forums, as well as a rich library of technical tools and publications. www.cleanenergysolutions.org
The Clean Energy Ministerial is a high-level global forum to share best practices and promote policies and programs that encourage and facilitate the transition to a global clean energy economy.
www.cleanenergyministerial.org
Featured Product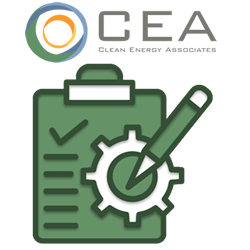 Clean Energy Associates provides a complete quality assurance solution that covers the entire product lifecycle of PV modules, storage systems, and every Balance of Sy stem (BOS) component. CEA's experienced on-the-ground and international team of quality control engineers and account managers offer an unparalleled quality assurance presence that can protect solar and storage investments and ensure future energy-producing viability for the life of the product.