Panelists Cite Middle Market Deals as Area for Expansion
CLIFTON, N.J., Oct. 30, 2013 – New Jersey's stabilized Solar Renewable Energy Certificate (SREC) market is poised to become one of the most dynamic and fastest-growing solar markets in the country, according to a recently convened expert panel of renewable industry leaders. The program, hosted by Sax Macy Fromm & Co., PC (SMF) in cooperation with Wolff & Samson PC, provided more than 100 attendees with an in-depth analysis of the Garden State's ever-changing solar marketplace.

"Middle-market deals are gaining a lot of traction as the industry moves away from projects with a 10-megawatt focus, to projects in the 5 to 7-megawatt range," said George Livanos, practice leader of SMF's Renewable Energy Industry Service Group. "Mid-sized net-meter projects is where it's at in New Jersey."
The panel, which was moderated by Fred DeSanti, president of mc2 Public Affairs LLC, also included Stephen Kisker, chairman of the Wolff & Samson Renewable Energy and Sustainability Group, and Scott Hunter, renewable energy program administrator for the New Jersey Board of Public Utilities. New Jersey State Senator Bob Smith, one of the state's leading environmental lawmakers, served as the keynote speaker.
The "New Jersey Solar Forecast" is one of several free educational forums hosted by SMF on an annual basis for middle-market business owners. Additional programs include the Bankers Breakfast and 7th Annual Construction Update.
Founded in 1956, SMF is one of the largest single-office accounting and business consulting firms in the tri-state area offering best-in-class resources on a national and international level. Effective January 1, 2014, the Clifton, N.J.-based firm will be merging with Bollam, Sheedy, Torani, & Co. LLP, headquartered in Albany, N.Y. The new company, to be named SaxBST, will rank among the "Top 100" firms nationally, with $45 million in combined annual billings.
Based in West Orange, N.J., Wolff & Samson PC is a regional law firm of more than 130 attorneys. The firm provides a wide range of legal services in many areas, including banking and finance, bankruptcy, construction, corporate and securities, employee benefits/executive compensation, employment, environmental, fidelity and surety, health care, intellectual property, litigation, media and technology, product liability, public finance, real estate, regulatory affairs, renewable energy, tax, and trusts and estates.
Featured Product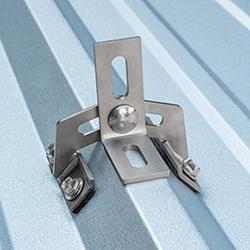 They have been changing the game for 10 years with their original Top Mount line for Asphalt Shingle roofs, and by now supplying one of the widest ranges of solar mounts in North America. From their patented products, to the custom production services they offer, QuickBOLT has been working with solar installers for nearly a decade to make solar installations easier than ever before.