High Efficiency Paste Materials Continue to Raise Efficiency and Solar Power Output
TAIPEI, Taiwan, Oct. 31, 2013 – DuPont Microcircuit Materials will feature DuPont™ Solamet® PV18A photovoltaic metallization paste during the Taiwan International Photovoltaic Exhibition 2013 (PV Taiwan), Asia's premier international solar energy exhibition, being held at the Taiwan World Trade Center Hall 1, in Taipei, from Oct. 30 – Nov.1. DuPont™ Solamet® PV18x series frontside silver metallization materials are designed to deliver improved efficiency for solar cells, and improve the power output from solar panels. DuPont™ Solamet® PV18x series is the product of the significant investment of DuPont in research and development to deliver innovative solutions to the global marketplace. DuPont™ Solamet® PV18x series paste provides increased efficiency and productivity, while providing a cost-effective solution for photovoltaic solar cell manufacturers. And like its predecessor, the Solamet® PV17x series, the technology contained in Solamet® PV18x series paste is available only from DuPont.

DuPont™ Solamet® PV18x series photovoltaic metallization pastes offer solar cell manufacturers improved productivity beyond that provided by Solamet® PV17x series, the leading frontside metallization paste and current industry benchmark. Solamet® PV18A, the first product in the series, is tailored for optimal performance on mono-crystalline wafers with enhanced Lightly Doped Emitters (LDEs). LDE is a strong differentiator for solar cell producers as it can significantly boost efficiency, which increases the power output of solar panels. Solamet® PV18A is demonstrating efficiency gains with finer lines and lower laydown when compared to Solamet® PV17F, further widening the gap in performance with other competitive products in the market. DuPont is concurrently developing diffusion recipes in-house aimed at boosting solar cell efficiencies beyond the 19.3 percent level already demonstrated on mono-crystalline wafers that use Solamet® PV18A.
"Solamet® PV17x series was the first commercial paste that was able to unlock efficiency gains by being able to contact LDEs," said Peter Brenner, global photovoltaic marketing manager, DuPont Microcircuit Materials. "Now Solamet® PV18x expands productivity even further by delivering greater efficiency from even better contact to LDEs together with less material required. And just like the Solamet® PV17x series, the technology contained in Solamet® PV18x series pastes is available only from DuPont."
Development and evaluation efforts are on-going to continue the expansion of the Solamet® PV18x series to address the specific needs of various market segments such as achieving even finer lines to support further reductions in the cost of ownership of multi-crystalline cells with even higher efficiency results.
DuPont Microcircuit Materials has over 40 years of experience in the development, manufacture, sale and support of specialized thick film compositions for a wide variety of electronic applications in the photovoltaic, display, automotive, biomedical, industrial, military and telecommunications markets. For more information on DuPont Microcircuit Materials, please visit http://mcm.dupont.com.
DuPont™ Solamet® photovoltaic metallizations are part of a broad and growing portfolio of products represented by DuPont Photovoltaic Solutions (DPVS), which connects science and technology from across the company on a global scale to help support the dramatic growth in the photovoltaic industry. To learn more, please visit http://photovoltaics.dupont.com.
DuPont (NYSE: DD) has been bringing world-class science and engineering to the global marketplace in the form of innovative products, materials, and services since 1802. The company believes that by collaborating with customers, governments, NGOs, and thought leaders we can help find solutions to such global challenges as providing enough healthy food for people everywhere, decreasing dependence on fossil fuels, and protecting life and the environment. For additional information about DuPont and its commitment to inclusive innovation, please visit http://www.dupont.com.
Featured Product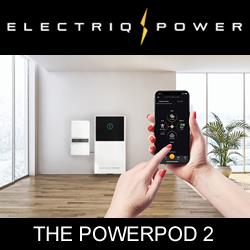 The Electriq PowerPod 2 is a fully-integrated home energy storage, management, and monitoring system powered by LFP batteries. The high-performance, cobalt-free product includes a hybrid solar/battery inverter controlled by intelligent software. The PowerPod 2 provides backup power and can self-consume or export excess power back to the grid.