The Company has until November 6, 2013 to respond.
WUXI, China, Oct. 31, 2013 -- Suntech Power Holdings Co., Ltd. (NYSE: STP) ("Suntech" or the "Company"), one of the world's largest solar companies, today announced it intends to challenge the petition for involuntary bankruptcy filed against it under Chapter 7 of the U.S. Bankruptcy Code in the U.S. Bankruptcy Court in the Southern District of New York. The Company has until November 6, 2013 to respond.

The petition was brought by a group of four asserted bondholders holding in aggregate approximately $1.6 million of the Company's 3% Convertible Senior Notes Due 2013, representing less than 0.3% of the total aggregate principal amount of approximately $541 million of Notes outstanding. On September 20, 2013, a judgment had been entered in favor of certain of such petitioning bondholders with respect to repayment of their Notes. Suntech is currently appealing such judgment.
About Suntech
Suntech Power Holdings Co., Ltd. (NYSE: STP) produces solar products for residential, commercial, industrial, and utility applications. With regional operations in China, Switzerland, and the United States, and gigawatt-scale manufacturing worldwide, Suntech has delivered more than 25,000,000 photovoltaic panels to over a thousand customers in more than 80 countries. Suntech's pioneering R&D creates customer-centric innovations that are designed to drive solar to grid parity against fossil fuels. Suntech's mission is to provide everyone with reliable access to nature's cleanest and most abundant energy source.
Featured Product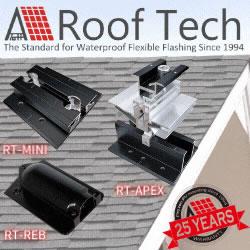 These ongoing webinars cover Roof Tech's background, product design (RT MINI and APEX), code and best practices. You will learn about a proven system that reduces installation time while keeping the integrity of the roofing system. This training will earn you one NABCEP Continuing Education Credit. The webinars are offered every Tuesday from 11 AM PDT to Noon during the months of April and May, 2020.