Presentations from the International Sessions at the GRC Annual Meeting made available by the Geothermal Resources Council
The Geothermal Resources Council (GRC), the world's premier geothermal association, has made available the presentations from the International Sessions at the GRC Annual Meeting & GEA Expo held last month in Las Vegas, Nevada, USA.

Demonstrating the focus on international involvement at the meeting, the GRC and U.S Geothermal Energy Association (GEA) co-hosted the 6th International Luncheon with representatives from Ethiopia and Kenya reporting on the exciting developments in geothermal power in their countries. Mr. Gosaye Megiste Abayneh of the Ethiopia Ministry of Water and Energy and Mr. Albert Mugo of Kenya Electricity Generating Company (KENGEN) have very kindly made their presentations available.
In an International Session, as part of the GRC Technical Sessions, 8 experts from around the world gave presentations on updates in North America, Central America, South America, the Caribbean, Australasia, Philippines, the Middle East and Europe.
The GRC has posted these international geothermal energy updates to the GRC Website at www.geothermal.org/meet-new.html.
The GRC Annual Meeting & GEA Energy Expo in Las Vegas, Nevada, USA from September 30 –October 2 attracted over 1,600 attendees from 36 different countries. Next year's 38th GRC Annual Meeting & GEA Expo will be held in Portland, Oregon, USA, from September 29 – October 1, 2014.
##
About the Geothermal Resources Council:
With the experience and dedication of its diverse, international membership bolstering a more than 40-year track record, the Geothermal Resources Council has built a solid reputation as the world's preeminent geothermal association. The GRC serves as a focal point for continuing professional development for its members through its outreach, information transfer and education services.
For more information, please visit www.geothermal.org.
Get your daily geothermal news at Global Geothermal News [geothermalresourcescouncil.blogspot.com]. Become a fan on Facebook [www.facebook.com/GeothermalResourcesCouncil]. Follow GRC on Twitter [twitter.com/GRC2001]. Check out GRC's YouTube Channel [www.youtube.com/GeothermalCouncil]. See geothermal photos on GRC's Flicker page. [www.flickr.com/photos/geothermalresourcescouncil]
###
Featured Product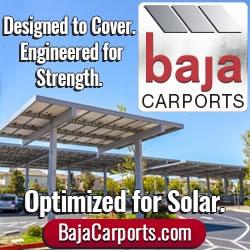 Baja Carports offers an extensive solar support system product line customized to customers' site specifications by in-house engineers, meeting their parking lot coverage, plus optimal PV production needs. Baja's Full Cantilever Tee is often paired with its Semi and Full Cantilever carports to meet live/loads up to 60psf and wind speeds to 160mph. All Baja products are pre-fabricated, bolted connections, pre-galvanized structural steel for fast on-site installation and project aesthetic requirements."