sun2safe solution introduced in Pakistan
Zug/Lahore. Multinet, a leading data and voice communication provider in Pakistan, has chosen to partner up with The meeco Group to implement energy management systems. For the beginning 33 of their sites all over the country shall be equipped by meeco with sun2com systems. Through this cooperation, meeco introduces at the same time its new sun2safe solution: a solar energy management tool to be associated with electricity production systems. This tool, equipped with a storage solution, insures that the energy produced is either consumed by the powered equipment or used to charge the batteries.

The installations, using German Würth solar panels and sun2safe systems, which are manufactured in Italy, will manage the energy produced for powering data repeater stations on Multinet's sites in various Pakistan cities such as Islamabad, Karachi, and Lahore. They will be used as sample tools to show their cost saving efficiency on these sites, leading the way to the implementation of the combination of the sun2com enhanced by the sun2safe solution on other sites in the future.
In addition to these projects, meeco will also provide Multinet with a sun2live solution to supply the group with electricity for its newly built training facilities as well as for the car porch on the building's premises.
"We are very enthusiastic about achieving these energy management projects for Multinet", responds Dieter Trutschler, Sales Director of The meeco Group "Indeed, with the rising electricity prices in Pakistan, our sun2safe solution will enable our partners to better handle their energy consumption and therefore remain competitive in their markets" adds Dieter Trutschler.
About The meeco Group: The meeco Group was consolidated in 2000 and oriented its main focus towards the energy sector. With world headquarters located in Zug, Switzerland, the group currently has over 50 employees working across 4 continents. Thanks to a structured but flexible approach based on its core competencies, meeco has delivered over 320 MW of clean, renewable energy solutions across four continents. The meeco Group accomplishes its mission by providing project developers, investors, governments, and private businesses with the services necessary for timely financing, installation, and operation of clean energy assets.
For further information visit: www.meeco.net
Featured Product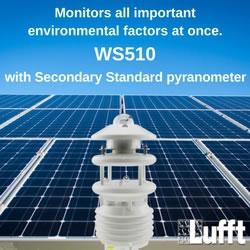 Professional weather sensors form the heart of large solar plants supporting their operation and performance. Lufft was the first manufacturer to combine several sensors in one housing, bringing the largest multiparameter weather sensor family with 19 members into being. Many of them are well-suited for solar site assessment and continuous monitoring. The most commonly used one is the WS600 delivering data on temperature, air pressure, wind, relative humidity and precipitation. Through its open protocol, it can easily be attached to radiation sensors e.g. from Kipp&Zonen. Other models have an integrated Silicon, Second Class or Secondary Standard radiation sensor.