Austrian Industrial Revitalization Company Plans to Increase Renewable Energy Storage Capabilities for Developing Communities
Columbia Falls, MT – November 5, 2013 – Today, it was announced that BlueSky Energy, a research and manufacturing firm specializing in delivering large scale turnkey energy storage projects, will incorporate ViZn Energy Systems, Inc.'s Z20 Zinc Redox Flow Batteries into one of its European economic renewal projects in late 2013. With the ViZn Z20 battery, BlueSky will be able to maximize the solar reserves of a developing Austrian community by inexpensively cutting the waste that plagues traditional energy systems.

As a company that builds community business and infrastructure, BlueSky has made the creation of alternative energy microgrids a core part of its development plan. Through solar and battery integration, BlueSky is able to reduce the power rates for its customers.
"Energy is easy to make, and easy to lose," said Hansjörg Weisskopf, founder and president of BlueSky. "ViZn's Z20 battery is exciting because it will allow us to use all the energy we create."
Hansjörg Weisskopf continues, "The ViZn battery has been designed specifically to meet the unique needs of the microgrid market and was the clear winner for our project. Our primary objective was to find a battery that provided the best economic returns over a 20 year life. The ViZn battery provided that, but also provides a battery with unparalleled safety which is a big selling point for our customers."
"As communities continue to grow more sustainably-minded, microgrids and alternative energy solutions will leap to the forefront of urban planning decisions," said John Lowell, COO and VP of manufacturing and product development for ViZn Energy Systems, Inc. "BlueSky is a great example of how one company can funnel these different alternative energy options into big savings for a community they oversee."
About ViZn Energy Systems, Inc.
ViZn Energy Systems, Inc., formerly Zinc Air, Inc., is comprised of a visionary team of scientists, engineers and business leaders that are passionate about creating and commercializing a revolutionary energy storage solution for the micro grid market. Founded in 2009 and based on ten previous years of research, ViZn is commercializing energy storage systems for mega-watt applications. The ViZn solution is safe, reliable, cost effective, and scalable to meet the needs of today's ever changing energy landscape.
About BlueSky
BlueSky Energy GmbH is an R&D / Manufacturing firm specializing in delivering large scale turnkey energy storage projects for our customers. BlueSky provides the key engineering and system integration services needed to successfully design, integrate and install a grid scale storage system. Our relationship with members of ViZn Energy goes back 15 years and using the ViZn technology means we can offer Europe the safest and most cost effective solution available. WWW.BLUESKY-ENERGY.EU
Featured Product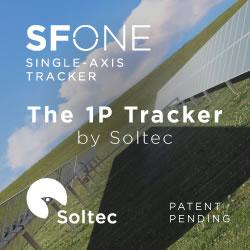 Soltec manufactures and supplies solar trackers designed and proven for extreme climate conditions, which is an ideal solution for any region's environment. Soltec's trackers are self-powered, requiring no additional PV module or grid-powered connection. Bifacial modules collect energy on both the front and rear sides, capturing reflected irradiance from the ground surface under and around the tracker and from other modules. Depending on site conditions, bifacial yield-gain can reach +30 percent.