Saudi Arabian and leading international solar PV companies to discuss opportunities at Desert Solar Conference in Riyadh
Riyadh - 4 November 2013 - It's hard to imagine that a few years ago, a 1 MW PV plant was seen as a large project, when Saudi Arabia is targeting 6000 MW of solar PV capacity by 2020. The achievement of such an ambitious goal, however, will require the installation of around 10,000 solar panels per day.

How this will be realized is one of many topics to be discussed at the Desert Solar in Saudi Arabia conference, which will be held at Sheraton Riyadh Hotel & Towers on 13 November, 2013. Around a hundred participants, of which more than 30 are leading international experts, will join on this day to explore partnership opportunities.
Desert Solar is part of an international Solar PV Trade Mission to Saudi Arabia that will see 20 high-level PV executives visiting the country and meeting with leading stakeholders in the local solar industry, including K.A.CARE and Saudi Aramco.
Consequently, the one-day conference will offer an exclusive opportunity to meet with these executives and learn of what has been concluded after their visits and meetings in Saudi Arabia, while providing an ideal platform for participants to network and build relationships with global and Saudi PV players.
Other discussions at Desert Solar will explore whether solar panels can be twice as cheap by 2020; where in the value chain can costs be pushed down further; and what this means for the Saudi PV market.
"The Saudi solar downstream industry, such as installers, EPCs and investors can benefit directly. If the Saudi market demands volumes of 1000 MegaWatt and more, PV production is going to happen locally. The market will attract leading producers to invest in local facilities. Very likely it'll be joint ventures, or partnerships like in other countries," says Henning Wicht, a leading PV market consultant and senior director of solar research at IHS, who will be revealing more market perspectives at the Desert Solar conference.
"We're going to present our forecast of PV module cost, based on industry learning curves. Also, I'd like to share our views on best practices in developing solar investments in new markets," notes Wicht.
Indeed, Saudi Arabia is on the cusp of significant developments in the next three years. Considering its solar radiation levels of 2,550 kWh/m2 per year, as well as the vast areas of desert that can host large solar installations, and huge deposits of clear sand that can be used to manufacture of silicon PV cells, the country's solar future is inevitable.
Add to that a well-proven independent power producer framework supported by a strong liquid financing industry and a government-backed solar programme, and you have all the ingredients for a booming solar market. But to get involved successfully, a strong local footprint is key, and foreign players are expected to demonstrate long-term commitment.
"Such opportunities are best harnessed through partnerships with credible and well-established local players, who can add values well-beyond commercial representation," says Yahya Shakweh, vice president at Saudi Arabia's Advanced Electronics Co., a sponsor of the Desert Solar conference.
The Solar PV Trade Mission and the Desert Solar conference are jointly organized by the Netherlands-based Solarplaza and Saudi Arabia Solar Industry Association (SASIA).
Online version of the article: http://desertsolarsaudiarabia.com/news-updates/2013/11/4/solar-in-saudi-arabia-its-just-getting-started
About Solarplaza International BV
The Dutch company Solarplaza (www.solarplaza.com) is a global leader in the organisation of top-level solar PV conferences, seminars and trade missions around the globe. Its mission is to empower the solar industry. The platform www.solarplaza.com provides and shares knowledge, networking opportunities and information. Solarplaza firmly believes in a renewable future: a future built upon the power of solar energy. Since the founding of Solarplaza in 2004, the company organised more than 50 events around the world and built up an extensive network of valuable friends, associates, business contacts and solar experts.
About Saudi Solar Industry Association Abundant solar potential gives the Kingdom of Saudi Arabia (KSA) a unique opportunity to become one of the most energy-advantaged countries in the world. The Saudi Arabia Solar Industry Association (SASIA) is a non-governmental association that strives to make this vision a reality by helping Saudi Arabia and the Middle East realize the full economic and environmental potential of solar energy.
The goal is to bring the national and regional solar industry together, transforming the vast solar potential of Saudi Arabia and the Middle East into a commercially- and environmentally-viable solution for our growing demand for electricity.
Featured Product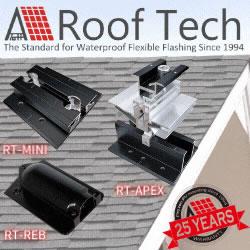 Now Roof Tech brings you the most innovative, watertight mounting systems ever developed for solar photovoltaic systems. Designed and manufactured exclusively for us by Japan's longtime leader in roofing technologies, Roof Tech products are 100% code-compliant and offer fast, simple installation and huge savings on shipping costs due to their compact, rail-less design. Learn more about our full line of versatile PV mounting solutions now available for residential installations. The next generation in rooftop solar mounting solutions."