Technology platform leverages a breakthrough in energy storage technology yielding a cost five times lower than today's batteries
REDWOOD CITY, Calif., Nov. 5, 2013 /PRNewswire/ -- Terrajoule, developers of a flexible technology platform for distributed energy generation, energy storage (at a cost five times lower than today's batteries), and energy efficiency, today announced an $11.5 million Series A round of funding. Investors include global venture capital firm New Enterprise Associates (NEA); Air Liquide Investments in the future And Demonstration (ALIAD), the capital development company of Air Liquide; and individual investors. Air Liquide is the world leader in gases for industry, health, and the environment.

(Photo: http://photos.prnewswire.com/prnh/20131105/SF10608)
"Terrajoule's energy storage solution removes a fundamental obstacle to the next few decades of sustainable energy growth worldwide," said Arno Penzias, NEA Venture Partner, Nobel Prize winner (Physics 1978) and Terrajoule advisor. "Since NEA's initial investment in 2009, the company has made outstanding technological progress, and we're excited to partner with Terrajoule in its next stage of growth."
NEA General Partner Forest Baskett added, "In addition to the core technology, we really like Terrajoule's approach to the market. By working through channel partners in industrial, agricultural and other sectors, the company can scale to play a major role in worldwide energy markets without the massive capital requirements that have posed significant challenges to other new energy technologies."
ALIAD, part of Air Liquide's Advanced Business and Technologies network, is the Air Liquide subsidiary dedicated to investing in young innovative companies offering differentiating technologies. The Terrajoule technology that converts waste heat to valuable electricity provides Air Liquide with the means of increasing energy efficiency and reducing the carbon footprint of hydrogen units while improving competitive financial factors.
Terrajoule's technology platform leverages a breakthrough in energy storage technology yielding a cost five times lower than today's batteries and without degradation or cycle limitations over a 25-year system life. The result is continuous, on-demand solar power generation, from 100 kW to 20 MW, with a compelling payback compared to diesel-based off-grid and on-grid power. The company is targeting a number of applications in the industrial and agricultural sectors including distributed electricity production, especially in locations with electrical grids that are inadequate to support economic growth, and waste heat recovery to improve the efficiency of industrial operations.
An essential characteristic of the Terrajoule system is its ability to rapidly respond to changes in load, functioning equivalently to the diesel generators it replaces, and without volatile fuel costs. Energy storage is based on pressurized saturated water, with 98% storage/retrieval efficiency. Energy conversion is performed via reciprocating steam piston engines that are highly efficient across a wide range of operating power. The system generates steam through mature solar concentrator technology.
"Developing a game-changing energy storage solution is about more than technology. We've focused on building the right value proposition, market channels, and capital partners to build a business with global reach and scale without depending on government subsidies," said Steve Bisset, Terrajoule Co-Founder and CEO. "With our early customer successes, the ongoing support of NEA, and now in partnership with Air Liquide, we are excited to bring the Terrajoule innovation in energy storage to key global markets."
Other major investors in the round include Jim Bochnowski (Menlo Park, California) and Craig Winkler (Australia). Greg Fleming, an investment director at Air Liquide, has joined Terrajoule's board of directors.
About Terrajoule
Terrajoule Corporation, headquartered in Redwood City, CA, was founded in 2009 to extend the worldwide reach and penetration of renewable energy, by solving the fundamental problem of intermittent supply of solar and wind power. Terrajoule has demonstrated 24/7 solar power with a distributed industrial-scale power plant and is currently developing the technology for volume production in 2015. Terrajoule's key partnerships include JKB Energy of Turlock, CA, a leading supplier of solar power systems to agriculture and industry, and Roush Industries of Livonia, Michigan, a leading developer of automotive and energy systems.
About NEA
New Enterprise Associates, Inc. (NEA) is a leading venture capital firm focused on helping entrepreneurs build transformational businesses across multiple stages, sectors and geographies. With more than $13 billion in committed capital, the firm's long track record includes more than 175 portfolio company IPOs and more than 300 acquisitions. In the U.S., NEA has offices in the Washington, D.C. metropolitan area; Menlo Park, California; and New York City. In addition, New Enterprise Associates (India) Pvt. Ltd. has offices in Bangalore and Mumbai, India and New Enterprise Associates (Beijing), Ltd. has offices in Beijing and Shanghai, China. For additional information, visit www.nea.com.
Contacts:
Terrajoule
Steve Bisset
650-924-0494 | steve@terrajoulecorp.com
Roop Karihaloo
650-248-7208 | roop@terrajoulecorp.com
NEA
Kate Barrett
301-272-2318 | kbarrett@nea.com
Featured Product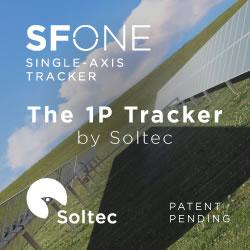 Under the slogan "engineered for greatness", the SF8 tracker aims to revolutionize the photovoltaic market with its new minimum 2x60 configuration and 4 to 6-strings. This tracker is elegantly designed while it reinforces its structure to perform in any terrain. In addition, the SF8 tracker increases the rigidity of its structure by 22% more than the previous generation of Soltec trackers, the SF7. The SF8 is specially designed for larger 72 and 78 cell modules, an increasing market trend.