The event will take place on the 20th - 22nd of November 2013 at EXPOROM - Bucharest
Renewable energy continues to gain popularity regarding the energy future of Romania. Authorities' attention is directed to investments and development opportunities in this sector. Experts and decision makers in the field will gather for the sixth time at RENEXPO® SOUTH-EAST EUROPE fair and conference. The event will take place on the 20th - 22nd of November 2013 at EXPOROM - Bucharest and will host over 100 speakers at the 5 international conferences and the 4 side events.

For the 6th time, international and Romanian experts will meet at RENEXPO® SOUTH-EAST EUROPE in order to exchange know-how, present experiences from practice and offer advice gained through research and development and ensuring this knowledge is quickly transferred into action. The innovation confer-ence takes place over three days parallel to the trade fair.
This year's international conferences and side events are organised with the sup-port and in partnership with important institutions. Among the conference co-organisers there are: Association for Local Public Administration in Bucha-rest, Association of Electricians Romania (AREL), Small Hydropower Asso-ciation of Romania (ROSHA), World Energy Council for Sustainable Energy, ISPE, Electrical and Automation Society (SIEAR).
International conferences:
Wind Energy
6th International Conference – Wind Energy in Romania
Solar Energy
5th International Conference - Solar Energy in Romania
Power Grid
International Power Grid Interconnections
Biomass
6th International Conference – Biomass in Romania
Small Hydropower
6th International Conference – Small Hydropower in Romania
Workshops and Forums:
Cogeneration
2nd International Workshop: Cogeneration & District Heating
Electricity
BMS - Conditions for Buildings Energy Efficiency
AREL
Romanian Electricians Forum
Mayors Day
The international conferences and the side events will take place in parallel with the 6th edition of the biggest renewable energy event in Romania - RENEXPO® SOUTH-EAST EUROPE, where over 120 companies from 12 European countries and 2 continents have already registered as exhibitors to the event.
RENEXPO® SOUTH-EAST EUROPE is sponsored by national and international companies: Apostolas Bobolas SA, Gaia Energy SRL, Monsson Operation, RomNed Industrial Foundation Equipment SRL and SMEA srl.
More information about the biggest and most important event on renewable en-ergy in Romania and the specialized conferences taking place in parallel you can find under www.renexpo-bucharest.com.
About REECO:
The company, with the headquarter in Reutlingen-Germany is one of the biggest trade fair and conference organizers in Europe, in renewable energy and energy efficiency field. Since 1997 until now, REECO organized 1000 exhibitions and conferences, that were visited by about 50.000 experts and attended by over 2000 exhibitors. The company's portfolio includes 9 trade fairs and 60 conferences organized annually, by approximately 50 employees in Romania, Germany, Austria, Poland and Hungary.
Featured Product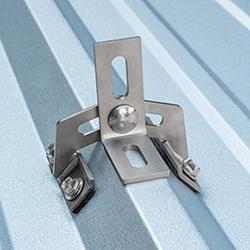 They have been changing the game for 10 years with their original Top Mount line for Asphalt Shingle roofs, and by now supplying one of the widest ranges of solar mounts in North America. From their patented products, to the custom production services they offer, QuickBOLT has been working with solar installers for nearly a decade to make solar installations easier than ever before.