Dunlap brings more than 30 years of experience to Trojan Battery
SANTA FE SPRINGS, Calif., Nov. 5, 2013 - Trojan Battery Co., the world's

leading manufacturer of deep-cycle batteries, has appointed Ed Dunlap as
senior vice president and chief financial officer (CFO). Dunlap will be
responsible for all aspects of Trojan Battery's finance programs as well as
lead the company's finance, information technology and commodities
strategies teams. He also will serve as a member of Trojan's Executive
Steering Committee.
Dunlap's responsibilities will include management of all aspects of Trojan
Battery's accounting, finance, treasury, tax planning, information systems,
risk management, legal, Foreign Corrupt Practices Act Compliance and all
lead/scrap activities.
"Trojan has a very aggressive growth agenda both in the U.S., and more
importantly internationally, as we continue our expansion as a global energy
solutions provider," said Jeff Elder, president and chief executive officer
of Trojan Battery. "This global focus requires the ability to quickly
establish Trojan in other parts of the world and to develop the structures
and partnerships necessary to grow our business in every region. Ed brings
a significant amount of knowledge and international business expertise which
will help Trojan move forward into new markets worldwide. His extensive
background in international business, especially the India marketplace,
provides Trojan with valuable insight which will support our market growth
strategy over the next few years."
Dunlap brings more than 30 years of experience to Trojan Battery, and has
served in various finance and CFO roles for both private and publicly traded
companies including BF Goodrich Tires, PepsiCo Inc., R.J. Reynolds Tobacco
Co., Gap Inc., Wild Oats Markets, Shaklee Co. and Exxel Outdoors.
Dunlap received an MBA from the University of Chicago and his bachelor's
degree from Reed College in Portland, Ore.
About Trojan Battery Company
Trojan Battery Company is the world's leading manufacturer of deep-cycle
batteries and a battery technology pioneer, having built batteries for the
first golf car in 1952. Trojan batteries power a wide variety of golf,
electric vehicle, transportation, industrial, renewable energy, recreational
and auxiliary power applications. Founded in 1925, the company is ISO
9001:2008 certified with operations in California and Georgia, and maintains
two of the largest and most extensive research and development centers in
North America dedicated to engineering new and advanced battery technology.
For more information on Trojan Battery Company, visit www.trojanbattery.com.
Featured Product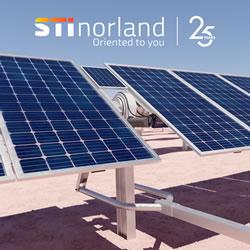 Developed in 2017, the STI-H250™ is consists of two linked torsion beams that rotate simultaneously following the sun's path. They are moved by just one motor, cutting supply and maintenance costs. STI-H250™ dual-row tracker includes backtracking mode to avoid shadowing between adjacent rows and stow function to protect the tracker in extreme wind conditions. For cleaning, vehicles can pass between trackers and each row can be placed in a different position.