OPIC to provide US$185 million in foreign debt funding in for third South Africa project
JOHANNESBURG, South Africa and BELMONT, Calif., Nov. 6, 2013 -- Leading global solar energy services and technology provider SunEdison, Inc., through its South African affiliate, (collectively "SunEdison") (NYSE: SUNE) today announced it had secured R1.8 billion (US$185 million) in foreign debt funding from the Overseas Private Investment Corporation (OPIC). This amounts to 75% of the R2.4 billion project cost for the Boshof Solar Park Project ("Boshof"), located in South Africa's Free State province near Kimberley.

Electricity generated by Boshof, with an installed capacity of 60MW AC, will feed into the South African grid, under the terms of a 20-year power purchase and implementation agreement signed with national power utility Eskom and the Department of Energy. The plant is scheduled to begin generating electricity in the fourth quarter of 2014.
Boshof is the first project in South Africa's Renewable Energy Independent Power Producer Programme (REIPPP) to be supplied by a local South African majority-owned photovoltaic (PV) module manufacturer. SunEdison will maintain a 51% ownership stake in the project, with South African companies holding the remaining 49%.
Support for the Local Economy and Community
"Access to a reliable source of energy is essential to addressing a wide range of development challenges from producing food to educating students and building modern infrastructure," said OPIC President and CEO Elizabeth Littlefield. "OPIC is pleased to be supporting a project that will provide a clean and reliable source of electricity and help stimulate economic development."
The Boshof project is expected to create approximately 280 jobs during its construction and operational phases, and through the use of local sub-contractors the project is expected to support over 1,000 jobs. Approximately 50% of the project's total value will go to South African manufacturers supplying local components and South Africa service providers including the SunEdison AP90 Single Axis trackers that will be locally manufactured for the project. Total procurement from black economic empowered entities is estimated at R685 million (US$67.9 million).
"Helping improve developing economies by creating jobs is one of the many ways our company is transforming lives through innovation," said Pashupathy Gopalan, SunEdison Vice President and Managing Director for South Asia and Sub-Saharan Africa. "Boshof is a landmark project which will benefit the entire South African economy as it contributes to energy security and creates green jobs throughout the value chain."
Over R200 million (US$19.7 million) is set aside for projects that will transform the community by improving access to education and healthcare, supporting enterprise development and other projects to improve the quality of life for residents throughout the Free State and Northern Cape.
Growing Commitment to South Africa
Construction has begun on two other utility-scale projects developed by SunEdison in Limpopo province, Soutpan and Witkop, which together total 58MW contracted capacity. As with Boshof, these projects rely on local subcontractors to help improve the overall economy and create employment opportunities.
Reliable Investment
The Government Employees Pension Fund's (GEPF) Acting Principal Officer Joelene Moodley said "We are increasing our investment with SunEdison because we view the Boshof project as a secure investment for our members and pensioners. This is why we feel comfortable nearly doubling our investment in SunEdison's South African projects by R312 million (US$30.8 million) for the Boshof Solar Park. We believe this a safe place for us to invest and the project is aligned with GEPF's mandate to back infrastructure projects that promote economic growth and job creation."
"SunEdison has extensive experience in delivering reliable and economical solar energy solutions for our customers around the world, in both the public and private sector. We are using that experience and our innovative approach to technology and business development to create new markets. Being part of this historic milestone for South Africa is very rewarding," said Gopalan.
About SunEdison
SunEdison is a global leader in semiconductor and solar technology. SunEdison's semiconductor business has been a pioneer in the design and development of silicon wafer technologies for over 50 years. With R&D and manufacturing facilities in the US, Europe and Asia, SunEdison enables the next generation of high performance semiconductor devices. SunEdison's solar business develops, finances, installs and operates power plants, delivering predictably priced solar energy and services for commercial, government and utility customers. SunEdison's common stock is listed on the New York Stock Exchange under the symbol "SUNE."
Featured Product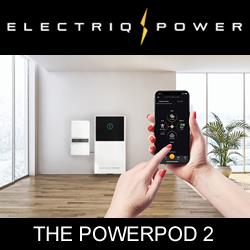 The Electriq PowerPod 2 is a fully-integrated home energy storage, management, and monitoring system powered by LFP batteries. The high-performance, cobalt-free product includes a hybrid solar/battery inverter controlled by intelligent software. The PowerPod 2 provides backup power and can self-consume or export excess power back to the grid.