The protocol, which is the first of its kind for Scotland, outlines a number of key commitments from Scotland's onshore wind sector.
Scottish Renewables has published a set of standards for new onshore wind farms, which will deliver significant financial benefits for local communities, and a more consistent approach to the development of community benefit agreements across Scotland.

The protocol, which is the first of its kind for Scotland, outlines a number of key commitments from Scotland's onshore wind sector.
For every megawatt (MW) of installed capacity, £5,000 of community benefit will be made available to communities to invest in local priorities. For a large scale wind farm this could mean several millions of pounds for locally-identified projects over the lifetime of the wind farm.
Niall Stuart, Chief Executive of Scottish Renewables, said: "We want to clearly state our industry's commitment to delivering local benefits from every new wind farm in Scotland. The protocol will also ensure a consistent approach to the development of community benefit agreements.
"According to the Scottish Government's online register, community benefit has topped £5 million per year and we're keen to build on that success as new projects are developed.
"To date we've seen major changes being brought about thanks to community benefit funding, for example, energy efficiency measures, college bursaries, investment in local museums, cycle paths and tracks, and even funding for community transport schemes."
Mr Stuart added: "As the most mature of renewable technologies, the benefits from onshore wind stretch far beyond the local area. Wind power meets the equivalent of more than 20 per cent of our electricity demand, tackles climate change, is responsible for attracting more than £1.3 billion of investment into the Scottish economy and employs thousands of people too."
The protocol will also see a commitment between industry and the Scottish Government to explore the potential for greater community ownership from onshore wind farms.
Commenting on this aspect of the protocol, Mr Stuart said: "There are a number of examples across the country such as Earlsburn and Neilston where local communities have a financial stake in the wind farm by owning individual turbines or entire projects. By encouraging our members to explore community ownership as a possibility, we hope to strengthen the relationship between developers and local people to maximise the benefits onshore wind can bring."
Energy Minister Fergus Ewing said:
"I welcome today's announcement by Scottish Renewables of the first set of standards that have been developed by the Scottish onshore wind industry that will ensure commitment on community benefits standards.
"The Scottish protocol goes further than those adopted in other parts of the UK in that, as well as the baseline rate, developers will be committing to consider the scope for direct community investment in their schemes, as well as to adhere to our forthcoming Good Practice Guidance and to use our public Register.
"Scotland is continuing to lead the way on community energy, and this commitment to a baseline level of community benefits of at least £5k per MW continues to set the pace. This protocol is an important step in the right direction as we move towards a position where as many new wind farms as possible, even small scale developments, are able to sign up to these commitments.
"In light of recent announcements regarding the renewable sector in Scotland these set of standards not only show strong leadership from Scottish Renewables, but also the huge investment opportunities still to come make it even more vital that DECC think again about the level of support being proposed through Electricity Market Reform."
The protocol also outlines a commitment to follow the forthcoming Community Benefit Good Practice Guidance and a pledge to sign up to the online Scottish Government Register of Community Benefits from Renewables.
Featured Product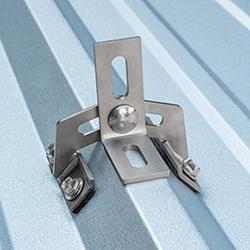 They have been changing the game for 10 years with their original Top Mount line for Asphalt Shingle roofs, and by now supplying one of the widest ranges of solar mounts in North America. From their patented products, to the custom production services they offer, QuickBOLT has been working with solar installers for nearly a decade to make solar installations easier than ever before.