Energy independence becomes key priority for more organisations and landowners.
Leading UK renewable energy expert UrbanWind has sealed three orders for turbines worth more than £1million in the last few weeks as 'energy independence' becomes a key priority for more organisations and landowners.

The company says there has been a significant surge of interest in its small and medium-sized turbines, as potential individual and corporate customers look at ways to control their energy costs.
And it believes the coalition government's nuclear deal – which will see it guarantee to pay twice the level of today's wholesale energy price to the French firm behind the new Hinkley Point reactor – will point even more companies towards renewable alternatives.
UK energy customers are set to pay for the deal sealed in order to get the country's first nuclear power station in a generation built.
Phil McVan, managing director of UrbanWind, has 30 years' experience in the sector. He said: "We are seeing a surge of customers and potential clients looking to become independent of the burden of ever-increasing power bills. It really has become a hot topic.
"In the past fortnight we have sealed deals to erect wind turbines in Cumbria, Scotland and the Midlands. Clients like the idea of taking control of their energy needs and of the possibility of extra revenue streams that renewable energy brings them.
"We are also in advanced talks with a number of major utility companies, who are looking at how to harness renewable energy, not only to cut their bills, but also to fulfil their carbon reduction and corporate social responsibility targets."
He added: "We believe the latest announcement on the nuclear policy being adopted by the coalition will prove to be the tipping point for a number of commercial organisations and individual landowners looking to renewable energy to give them price stability and a strong return on investment.
"The nuclear announcement by Energy Secretary Ed Davey is almost as important for the things it didn't tell us.
"For instance, does the deal include any provision for the massive decommissioning costs that the nation will incur once the Hinkley Point plant is at the end of its operating life?
"And, given that the guaranteed price is £92.50 for each megawatt hour of power produced by nuclear, what does it say about the future cost of generating electricity through fossil fuels?
"The guaranteed payment is twice the present wholesale price and it will be the energy companies' customers that will have to pick up the bill when Hinkley begins operating at the start of the next decade.
"What the politicians are actually saying is that they believe that will be an acceptable economic price to pay for wholesale power in 10 years' time.
"Our customers are telling us they want to have a say in controlling their energy costs and de-risk against rising energy prices. They can do that by turning to renewable technology that gives them the power they require and the ability to generate extra revenue by selling any excess back to the National Grid. It is an investment in their future.
"There is no doubt the price of energy is going to soar, whatever politicians say.
"The Australian Government recently said it was looking for 100 per cent renewable power in the future and was forecasting oil to hit $150 a barrel by the middle of the century.
"One presumes, and hopes, the UK government has taken this into account as well in its calculations.
"The Energy Secretary believes it is important to regenerate the UK's nuclear industry and to retain and widen the skills and expertise that made the country a leading nation in the sector.
"There are obviously also no qualms about a French company building the £14billion plant, or the involvement of Chinese investors in the project.
"Whoever is building it, the question remains, has the provision of cost for the decommissioning of this plant – probably in 2050 – been factored in? Or has the decision been made to let the next generation worry about that?"
Phil McVan added: "Officials insist that nuclear is not receiving special favours and that the same kind of support will be offered to all other forms of low-carbon energy.
"That remains to be seen. And whatever the pros and cons of Hinkley Point, it still has to be remembered it will be 10 years before we see any electricity generated by new nuclear.
"In the meantime, the renewable sector will continue to campaign for a genuine mix of energy generation, which remains the only true route to real security for the nation – and the key to lower bills."
ENDS
Issued on behalf of UrbanWind
For further information, please contact:
Andrew Turner or Richard Baguley
GDR Public Relations Ltd
Tel: 01253-600800, 07961-556391 or 07715-373166
Featured Product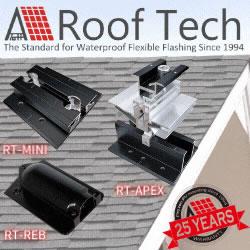 Now Roof Tech brings you the most innovative, watertight mounting systems ever developed for solar photovoltaic systems. Designed and manufactured exclusively for us by Japan's longtime leader in roofing technologies, Roof Tech products are 100% code-compliant and offer fast, simple installation and huge savings on shipping costs due to their compact, rail-less design. Learn more about our full line of versatile PV mounting solutions now available for residential installations. The next generation in rooftop solar mounting solutions."