Feed in Tariff figures for the third quarter of 2013 are showing a welcome upturn in UK renewable energy installations and particularly for Solar Photovoltaics.
Feed in Tariff figures for the third quarter of 2013 are showing a welcome upturn in UK renewable energy installations and particularly for Solar Photovoltaics. Q3 2013 saw 25,959 renewable energy installations confirmed through the Feed in Tariff scheme, adding some 171.16 MW of capacity. As usual, solar PV accounted for the vast bulk of these numbers with 25,775 new installations and 139.89 MW of capacity.

The most recent quarterly Feed in Tariff Installation Update from Green Business Watch covers the quarter from July 2013 – September 2013 and can be found at http://greenbusinesswatch.co.uk/fit-installation-update-september-2013
The report analyses Feed in Tariff data on confirmed installations from Ofgem's Renewables & CHP Register. It provides installation data for all 5 FiT technologies (Solar PV, Wind, Hydro, Micro CHP and Anaerobic Digestion).
At the end of September, installations accredited under the Feed in Tariff scheme had grown to 421,963 and accounted for 2,088.62 MW of installed capacity.
The three and a half years of the UK's Feed in Tariff scheme have seen 416,380 solar PV installations and 1,823 MW of capacity added. That's over 400,000 homes, schools, businesses, factories, farms and community projects that are producing power and lowering their demand on the grid.
Growth of microgeneration in the UK and of solar PV in particular has been a story taking place against a backdrop of changing government support. Early 2012 saw a massive drop in the Feed in Tariff paid for electricity generated through solar PV. The result was a rush to install at the old rates and a fall off when the reduced rate came into effect. There is a sense that the market is still suffering a hangover from those tariff adjustments.
Installations accredited under the Feed in Tariff represent the domestic and smaller scale commercial projects taking place in the UK. The upturn showing in the latest quarterly figures will be welcome news for the industry after a period of pain.
Costs for solar panel installations have fallen dramatically since 2010 when the Feed in Tariff was introduced and solar PV today still looks like a very good investment, even with lower tariffs. Together with savings on energy costs and the environmental benefit of renewables, solar PV has a very positive story to tell.
Alastair Kay, Editor at Green Business Watch hopes that this positive quarter is sustained.
"It is great to see this upturn in installation numbers and capacity. You've got to hope that it is the start of sustained growth and that we see sustained and consistent support coming from the Government."
About the Feed in Tariff
The Feed in Tariff provides support for residential and small commercial renewable energy installations in the UK.The Feed in Tariff Scheme pays UK energy consumers for the power they produce through renewable technologies. Householders and businesses are paid a tariff for every Kilowatt hour (kWh) of electricity generated and an extra tariff for unused energy that is "exported" back to the grid. The Feed in Tariff covers solar PV, wind, hydro, micro CHP and anaerobic digestion installations under 5MW of capacity. The scheme is open to schools, businesses and households alike.
About Green Business Watch
GreenBusinessWatch.co.uk connects consumers and businesses to installers of renewable energy. The site provides information and commentary to help consumers who are considering renewable energy or renewable heat for their homes or businesses.
Featured Product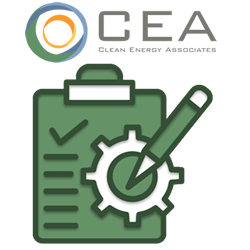 Clean Energy Associates provides a complete quality assurance solution that covers the entire product lifecycle of PV modules, storage systems, and every Balance of Sy stem (BOS) component. CEA's experienced on-the-ground and international team of quality control engineers and account managers offer an unparalleled quality assurance presence that can protect solar and storage investments and ensure future energy-producing viability for the life of the product.