Dubai Municipality presented at the 4th Waste Management Middle East Forum held at the Habtoor Grand Beach Resort & Spa; Dubai – UAE
4th Annual Waste Management Middle East Forum organized by Fleming Gulf Conferences got off to a good start today at the Habtoor Grand Beach Resort & Spa; Dubai – UAE, which saw global waste management professionals gathering at the forum to discuss the latest developments. The summit supported by Dubai Municipality, saw speakers from organizations like Center of Waste Management – Abu Dhabi, Ministry of Environment - Oman, MAG Group International, United Nations Environment Programme, Bee'ah and Abu Dhabi Food Control Authority. Dubai Municipality over the years has taken numerous initiatives to effectively curb waste generation and using waste as a resource. Eng. Abdulmajeed Saifee; Director of Waste Management Department - Dubai Municipality; spoke about the various initiatives by Dubai Municipality and effective practices for waste and resource management.

Eng. Hani Hossni, Strategy & Business Development acting Executive Director at the Center of Waste Management - Abu Dhabi presented on hazardous waste management in Abu Dhabi with focus on segregation & packaging of hazardous waste. Speaking of the measures being taken for the same he said, "The Center of Waste Management has mandatory requirements of packaging in proper leak proof containers and or package (for solids like asbestos containing material etc.) and labeling which are given in the Approved Technical Guidelines. These have been developed based on international best practices including EU, USEPA and UN requirements." Dr. Udayan Banerjee, Environment, Health & Safety Specialist at the Center of Waste Management – Abu Dhabi followed Hossni and spoke about the waste sector policy & regulatory framework in Abu Dhabi. With increased awareness of companies towards sustainable and recycling practices its important to adhere to various compliances; Banerjee briefly addressed topics on these policies.
Oleg Zhokhov, Chairman at MAG Group International presented on waste management practices for the present and future. MAG Group International, an umbrella brand for over 70 Russian companies is a gold sponsor at the summit. The company has started its operations in Dubai - UAE based on its huge experience in the Russian industry. Zhokov said, "MAG has now entered Dubai and intends to make its mark in the Emirate. Dubai is famous as a luxurious destination and we are keen on the city as we look forward to setting up a model in the area of waste management that also spells luxury – a service that would remove from this industry the negative connotation that goes with the very mention of the word waste. With this development, Dubai would become a role model in scientific waste management – one that could be adopted in other parts of the world based on its exemplary performance and success."
Post lunch session saw presentations by Matthias Kern, Senior Programme Officer - United Nations Environment Programme; Engr. Geoffrey A Piggott, Regional Manager (MENA) - Keppel Integrated Engineering; Dr. Hassan A. Arafat, Associate Professor, Water and Environmental Engineering Program - Masdar Institute of Science & Technology and Mike Summersgill, President - The Chartered Institution of Water and Environmental Management (CIWEM).
The forum is being sponsored by MAG Group International, Bee'ah, Keppel Integrated Engineering, Enerkem, MBM Group, Metso, Outotec, Al Serkal Group, LavaJet and Barloworld Logistics. The forum attracted professionals from in and around the region and provided an opportunity for the delegates to witness the latest technological developments and product range from global companies.
Presentation for day two of the summit will see industry experts like Daker El Rabaya, Director of Waste Process - Bee'ah; Jens Ole Simonsen, Head of Product Management - Metso Recycling; Tim Cesarek, Senior Vice President, Business Development - Enerkem; Christoph Guby , Senior Product Engineer – Energy - Outotec and Mahboob Ahsan Mian, Environment Section Leader - Adma Opco.
The forum has created an avenue to exchange view points concerning the future and simultaneously aim to benefit from the experience of other countries.
About Fleming Gulf:
Fleming Gulf is a leading provider of business intelligence through industry specific conferences, webinars and skills enhancement training courses by leveraging our network of industry influencer's with specialist knowledge to provide organisations the winning edge that makes a difference in their decision making in today's competitive business landscape.
Media Contact
Ajay Nimbalkar
T : +971 4609 1570 | E : ajay.nimbalkar@fleminggulf.com
Event Link
http://hse.fleminggulf.com/waste-management-middle-east-forum
Featured Product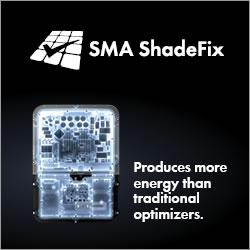 A recent university study showed SMA ShadeFix optimization produces more energy than traditional optimizers. It also utilizes far fewer components, reducing the need for costly service visits. Systems with ShadeFix optimization and SunSpec certified shutdown devices are the ideal solution for residential and commercial PV systems. Visit SMA's website to learn more and download the whitepaper.