"Things are looking brighter throughout the solar industry as PV demand climbs and spreads to new regions"
El Segundo, Calif. (Nov. 11, 2013)—Amid new signs that solar market conditions are improving and major suppliers are increasing production, IHS Inc. (NYSE: IHS) is raising its forecast of photovoltaic (PV) capital spending.

Global capital spending in 2014 by producers of photovoltaic (PV) modules, cells, ingots, wafers and polysilicon will rise by a robust 42 percent to reach $3.3 billion, as presented in the attached figure. IHS previously expected an increase of 37 percent for the year. The projected expansion in 2014 will mark the end of a two-year period of contraction in spending that resulted from slowing growth and massive oversupply in the industry.
The new forecast also calls for 32 percent growth in 2015 to reach $4.3 billion, a major upgrade from the older forecast of 5 percent growth, according to the IHS PV Manufacturing & Capital Spending Tool.
"Things are looking brighter throughout the solar industry as PV demand climbs and spreads to new regions," said Jon Campos, lead PV capital spending analyst at IHS. "In light of improving sales, PV companies are increasing production. Major manufacturers are indicating that the vast majority of their production upsurge will come from internal resources, requiring even greater increases in capital spending than previously expected."
The solar market in 2012 and 2013 struggled with an oversupply situation that led to massive erosion in pricing and financial losses for suppliers. However, the two-year decline in capital spending has resulted in a capacity correction, bringing supply and demand into closer alignment. IHS expects supply and demand to return to balance by late this year or in the first half of 2014.
At present PV manufacturers are starting to ramp up production, with many already running at full utilization. However, distinctions must be made between short-term events now unfolding and strategic developments percolating for the long haul.
"Some companies have engaged in contract manufacturing of products from Tier 2 and Tier 3 suppliers to meet sharp increases in demand," Campos said. "However, sources from multiple Tier 1 players, as well as from smaller companies, have verified that this is a short-term, small-scale tactic. Long-term, large-scale increases in production during the next few years will be accomplished via increases in internal capacity."
No. 7-ranked solar cell supplier SunPower of California plans to increase its solar cell production capacity by 25 percent, or 350 megawatts, by 2015.
The company said that Japan and Latin America are particularly strong growth areas and that emerging markets may be the impetus for the further expansion of the industry.
This year the emerging markets and Southeast Asia account for 7.9 gigawatts (GW) of the world's total announced capacity for PV materials and products from ingots through modules. Such a volume represents 3 percent of the global market.
The areas have the potential to rise to more than 18GW by 2017, which would be equivalent to 6 percent of the worldwide business at that time.
Featured Product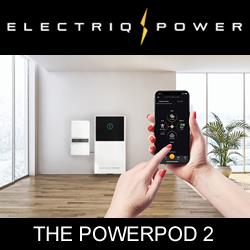 The Electriq PowerPod 2 is a fully-integrated home energy storage, management, and monitoring system powered by LFP batteries. The high-performance, cobalt-free product includes a hybrid solar/battery inverter controlled by intelligent software. The PowerPod 2 provides backup power and can self-consume or export excess power back to the grid.