The multinational has delivered solar materials to 137 projects in India, where it has a branch and 117 members in its International Network of Qualified Installers. From 12 to 14 November, PROINSO is to participate in the leading solar power trade show in India.
11 November 2013. PROINSO, leading supplier of PV solar products, will travel to Mumbai to attend Intersolar India, a major solar power industry show that is expected to attract over 8,500 trade members.

It will be the fourth time PROINSO takes part in Intersolar India (this year, it will take stand 1427) with the aim of promoting PV-DIESEL hybrid solutions, which combine PV power generation systems and diesel engines These solutions have sold very well in India. Also at its stand, PROINSO will showcase MECASOLAR trackers.
The company's participation in Intersolar India is based on a number of reasons. Firstly, it opened a branch in Mumbai last year and has 117 members in its International Network of Qualified installers. Secondly, by the end of August, it had delivered a total 62.3MW in PV solar products for 137 projects developed in India. Most of these projects are in the south (16.2MW) and west (45.5MW) of India.
'Since we decided to include this emerging market in our Strategic Plan, we've considered India a priority market. Our participation in Intersolar India is a new step towards consolidating our position in the Indian solar PV industry, whose growth potential is pretty high,' PROINSO sources say. India is expected to have installed 20,000MW by 2022. Currently, projects for over 1,000MW are being developed.
From 12 to 14 November, the company will be exhibiting its PV-DIESEL hybrid systems, featuring modules by leading international brands, inverters and smart fuel save controllers from SMA, and structures from MECASOLAR.
Hybrid solution sizes range from 300kVA to 6MVA. They can help reduce diesel consumption by 66,000L/year in a 300kVA engine. How much fuel consumption is saved depends on the power of the engine, the project's location and how many hours the installation is on. 'The main advantage of these systems,' say company sources, 'is that they reduce diesel consumption, which means they are cost-effective and help reduce CO2 emissions.'
Solar trackers
At stand 1427, PROINSO will showcase the new solar trackers from MECASOLAR, of which the multinational firm is sole distributor worldwide. More than 400MW of these trackers have been installed in solar farms in as many as 40 countries. The company will bring to Intersolar India horizontal and polar-aligned single-axis trackers, fixed structures and MECASCREW foundation screws, which can be used with all of them.
Recently, MECASOLAR announced it had sold 24MW in structures to a solar plant developed by ACCIONA for FRV (Fotowatio Renewable Ventures) in Australia.
At PROINSO they explain that there is no other element capable of increasing the performance of solar power plants as much as solar tracking systems. MECASOLAR's trackers raise power generation 'with state-of-the-art software control, easy and fast installation, really low maintenance costs and virtually any foundation system,' they add.//
ABOUT PROINSO www.proinso.net
PROINSO specialises in the supply of PV modules, solar kits, inverters, structures and solar trackers, solar solutions for urban applications in public areas, vehicle recharging stations, self-consumption installations, stand-alone PV power systems and monitoring systems.
With international markets accounting for 88% sales, PROINSO has branches in Spain, Germany, Greece, Italy, USA, Great Britain, Canada China, Brazil, Australia, Japan, South Africa and India. Recently, the company opened a new branch in Mexico.//
Featured Product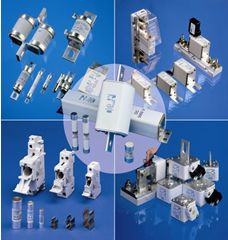 SIBA Fuses: your trusted source for all your circuit protection applications, from solar power to wind power. We are the world leaders in these applications and the most trusted name for your circuit protection needs. We have been working for over 70 years in semiconductor fuses, including ULTRA RAPID®, medium, and high voltage, standard European, miniatures, electronic fuses, and a wide range of DC rated fuses (24 VDC - 5000 VDC) for all types applications. We work with medium and high voltage fuses for protection of transformers, including submersibles, motors, medium and high voltage switchgear, compact substations, cable feeders, and high voltage capacitor circuits. New: Full line of PV UL Listed fuses and fuse holders. Contact us today for more information on our products and services.