Expected to create up to 200 jobs at its peak
TEMPE, Ariz.--First Solar, Inc. (Nasdaq: FSLR) announced today that it has signed power purchase agreements (PPA) with member cities of the Southern California Public Power Authority (SCPPA) for electricity to be generated at the 40 megawatt (MW)AC Kingbird photovoltaic solar power plant in Kern County, California. First Solar is developing – and will construct – the project.

The cities of Pasadena, Riverside, Colton and Azusa signed 20-year power purchase agreements (PPA) that will supply power from the solar plant to the cities' municipal power utilities. With its 20MWAC PPA, the City of Pasadena reaches its goal of obtaining 40 percent of its power from Category 1 renewable energy. A separate 20MWAC PPA was jointly signed by Riverside, Colton and Azusa.
"We are pleased to work with these municipal utilities to meet their renewable energy goals," said Brian Kunz, First Solar's Vice President of Project Development. "And we're proud to know that the communities of Pasadena, Riverside, Colton and Azusa will benefit from Kingbird's clean electricity."
Depending on final permitting, construction on the 320-acre Kingbird project, located near Rosamond, California in the Antelope Valley, could start in mid-2014, and is expected to create up to 200 jobs at its peak. The power plant is expected to be commissioned in late 2015.
In its first year, Kingbird will produce enough clean, renewable energy to power more than 11,000 homes, offsetting more than 20,000 metric tons of CO2 annually, which is the equivalent of taking about 4,000 cars off the road each year, and displacing over 18,000 metric tons of water consumption annually.
About First Solar, Inc.
First Solar is a leading global provider of comprehensive photovoltaic (PV) solar systems which use its advanced module and system technology. The company's integrated power plant solutions deliver an economically attractive alternative to fossil-fuel electricity generation today. From raw material sourcing through end-of-life module recycling, First Solar's renewable energy systems protect and enhance the environment. For more information about First Solar, please visit www.firstsolar.com.
Featured Product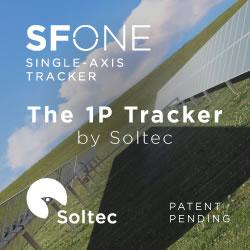 Soltec manufactures and supplies solar trackers designed and proven for extreme climate conditions, which is an ideal solution for any region's environment. Soltec's trackers are self-powered, requiring no additional PV module or grid-powered connection. Bifacial modules collect energy on both the front and rear sides, capturing reflected irradiance from the ground surface under and around the tracker and from other modules. Depending on site conditions, bifacial yield-gain can reach +30 percent.