IES offer state of the art software and consulting solutions for LEED
Boston, November 12, 2013 – LEED automation partner IES, will be exhibiting at this year's Greenbuild for the tenth year in a row. Delegates who visit booth #3843 will find out about the company's latest technical solutions for LEED and how they will assist construction professionals undertaking LEED v4 assessments. IES LEED Software solutions include VE-Navigator for ASHRAE 90.1 (LEED Energy) with the latest release including the 2010 version of the Performance Rating Method, the latest VE Navigator for LEED 2009 with enhanced credits for the 2012 revision and the online project management tool IES TaP for LEED. The company also offers an extensive LEED consulting service from highly skilled and experienced consultants.

IES have collaborated on over 100 LEED projects worldwide, both new construction and existing. Its expertise covers the US, Canadian and Indian versions of the system, amongst others. It is also authorised to independently review LEED models in Canada and serve as LEED reviewers through the Green Building Certification Institute (GBCI), and has been involved closely in the development of LEED V4, sitting on the LEED Steering Committee, the Indoor Air Quality Working Group and chairing the Implementation Committee.
Demonstrating its expertise, the company will be presenting two of the new special set sessions at the show. These sessions are designed to invigorate traditional breakout sessions with alternative formats and new engaging environments. The presentations are as follows:
A04: Next Generation LEED Measurement & Verification (15656)
Date: Wednesday, November 20, 2013
Time: 8:00 AM - 9:00 AM
Room: Terrace Ballroom IV, 400 Level
Speakers: Brenda Morawa & Todd Lukesh
IES VP for North America and recent awardee of the USGBC's LEED Fellow award, Brenda Morawa will take to the stage with recently appointed IES West Coast VP, Todd Lukesh to educate the audience on how you can leverage next generation developments in multi-dimensional modeling for whole building M&V assessment. Currently, the IPMVP calibrated simulation route to M&V is probably the least utilized – this session is concerned with this route and how to take it to the next level by using detailed BMS data across sub hourly time-steps.
D04: Next Generation Environmental Impact & Cost Analysis (15348)
Date: Thursday, November 21, 2013
Time: 8:00 AM - 9:00 AM
Room: Terrace Ballroom IV, 400 Level
Speaker: Richard Quincey
Technical Director for IES, Richard Quincey will focus on the integration of Life Cycle Cost (LCC) & Life Cycle Assessment (LCA) into BIM. With the audience, he will investigate how to incorporate disconnected operational and embodied impact consideration to provide holistic resource-efficient buildings.
IES will also be presenting at the Nemetschek Vectorworks, Inc. booth #3456, as well as taking part in the USGBC's App Lab. A two day IES Virtual Environment (IESVE) training course will also be held in Philadelphia prior to Greenbuild on November 18-19. A special offer of two free projects with every sign up to IES TaP for LEED will be available to attendees.
Don McLean, Founder and CEO of IES said, "We are excited to yet again be a huge part of Greenbuild. We have a jam packed schedule this year with training sessions, various presentations, meetings and our main exhibition booth. Greenbuild just gets bigger every year for us. With the launch of LEED v4, we are really looking forward to showcasing our entire integrated LEED solutions portfolio."
Featured Product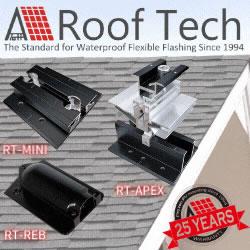 Now Roof Tech brings you the most innovative, watertight mounting systems ever developed for solar photovoltaic systems. Designed and manufactured exclusively for us by Japan's longtime leader in roofing technologies, Roof Tech products are 100% code-compliant and offer fast, simple installation and huge savings on shipping costs due to their compact, rail-less design. Learn more about our full line of versatile PV mounting solutions now available for residential installations. The next generation in rooftop solar mounting solutions."