Energy programs, alternative energy and consumer engagement are report highlights
ATLANTA – November 12, 2013 – More consumers say they are willing to pay extra to invest in and support alternative energy than to improve reliability, according to the latest "wave" of an annual Smart Grid Consumer Collaborative (SGCC) telephone survey of 1,001 U.S. residential electricity consumers nationwide. Findings also revealed that consumers favor critical peak rebate pricing programs over time-of-use pricing programs.

The Consumer Pulse Survey Wave 4, undertaken earlier this year by Market Strategies International, determined that more than 60 percent of consumers are willing to pay an extra $2, $5 or $15 a month to support deployment of alternative energy. Less than 60 percent were willing to pay those amounts to improve reliability.
The survey also tracked respondents' impressions of smart grid and smart meters, likelihood to participate in related energy programs, and favorability toward alternative energy.
The report notes that consumer awareness of smart grid has remained relatively consistent over the last two years, with 53 percent of respondents never having heard the term "smart grid." However, 54 percent of respondents who are aware of smart grid and its benefits are supportive, consistent with earlier "waves" of the survey.
"The results from this study illustrate the importance of promoting the understanding and benefits of modernized electrical systems to all stakeholders in the U.S.," said Patty Durand, SGCC executive director.
To help with that mission, SGCC has recently released an array of smart grid education materials including: www.WhatIsSmartGrid.org a one-stop-shop that provides visitors with easy-to-understand information about the smart grid and the Consumer Concerns and Educational Toolkit, which addresses important consumer topics including consumer benefits, data privacy, outage restoration and health concerns.
The SGCC will hold webinars on the Consumer Pulse Wave 4 research today and tomorrow (Nov. 13) at 4 p.m., Eastern. Registration and the full report can be accessed at www.smartgridcc.org.
About Smart Grid Consumer Collaborative
Smart Grid Consumer Collaborative (SGCC), is a 501(c)(3) nonprofit with the mission of accelerating the adoption of a consumer-friendly, consumer-safe and consumer-approved smart grid.
Featured Product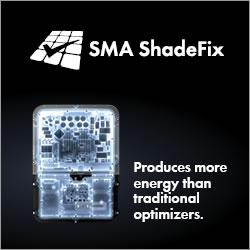 A recent university study showed SMA ShadeFix optimization produces more energy than traditional optimizers. It also utilizes far fewer components, reducing the need for costly service visits. Systems with ShadeFix optimization and SunSpec certified shutdown devices are the ideal solution for residential and commercial PV systems. Visit SMA's website to learn more and download the whitepaper.